Brocade's Gen5 Fibre Channel SAN Connectivity For EMC VMax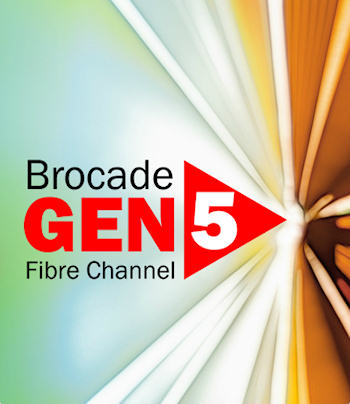 Fibre Channel product will provide virtualised storage with 16Gbps bandwidth capabilities
Brocade has moved deeper into the Gen5 Fibre Channel storage area network market with a switch that supports EMC's VMax product family. Brocade's 16Gbps SAN switches are sold by EMC under the Connectrix brand.
The firm said the combination of its products alongside EMC's offerings would support highly virtualised environments and would allow enterprises to deploy a storage infrastructure featuring EMC Connectrix 16 Gbps Fibre Channel modular and fixed-port switches and 16 Gbps Fibre Channel-capable VMax storage arrays.
Fast fibre
Brocade trumpeted its Fabric Vision technology with claims it would speed up new SAN deployments, optimise resources and reduce operational costs. It also said Fabric Vision would provide administrators with new tools and automation capabilities that "simplify day-to-day SAN management tasks, increase productivity and enable more proactive management of San infrastructures to help ensure the highest levels of availability and performance".
"VMax now offers 16Gbps Fibre Channel to leverage Brocade's Gen5 Fibre SAN connectivity solution on Connectrix, allowing enterprises to future-proof their data centres while adding our newest technology," said Isabelle Guis, vice president of marketing for EMC's Enterprise Storage Division.
Jack Rondoni, Brocade's Data Centre Storage and Solutions vice president, said his firm was excited that EMC is "now delivering enhanced VMax storage arrays that can fully leverage the breakthrough capabilities we have designed into our Gen5 SAN solutions that help simplify administration and reduce operational costs".
"These innovations also include our recently announced Fabric Vision technology, combine to create the industry's most advanced SAN management solution," he added.
The Fibre Channel products are now available from EMC and through its reseller channel.