XtremIO Boxes Mark EMC Entry Into All-Flash Array Market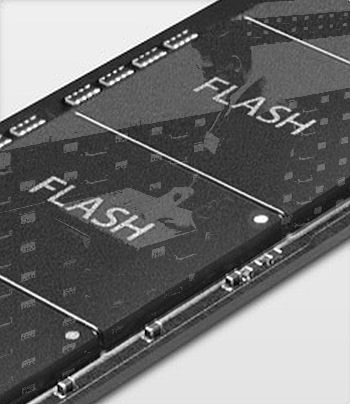 Storage giant flashes onto the scene thanks to technology acquired last year
EMC has announced general availability of its first all-Flash array, focused on "extreme performance". Built with XtremIO technology, the appliance features scale-out multi-controller architecture with always-on deduplication and data protection that claims to be six times more efficient and four times faster than traditional RAID configurations.
EMC claimed that, thanks to a number of proprietary technologies, the array has higher IOPS, lower latency and considerably improved endurance in comparison to competing all-Flash arrays.
Belated disruption
"Flash continues to be a major disruptive force and an incredible market opportunity in storage. There is an insatiable appetite for performance driven by next generation data centre workloads in both physical and virtual environments," said CJ Desai, president of EMC's emerging technology products division.
"With XtremIO, we're delivering this fast growing market with a specialised solution that delivers 'more' – more consistent and predictable performance, more scale, more integration and more data services."
However, Dell argues that the new product does not tackle the issue of cost, which it considers the greatest barrier to wider Flash adoption in the enterprise.
EMC acquired Israeli enterprise Flash experts XtremIO in 2012 for $430 million (£268m). A notable co-founder of the company is Aryeh Margi who also co-founded M-Systems, responsible for developing and patenting the first USB Flash drive in 1999.
According to IDC, the all-Flash storage array market is expected to grow to $1.2 billion (£750m) in revenue by 2015. Such appliances are especially useful for companies running a virtual desktop infrastructure (VDI), virtual servers, massively consolidated databases, and test or development environments.
The array is based on building blocks called X-Bricks each of which features 10TB of capacity – with 20TB units expected to be available early next year. Built with high performance Flash, they can deliver up to a million fully-random IOPS, with over 250TB of effective capacity in a cluster.
Among the key features of the new array is the content-based data placement, which keeps the appliance balanced across all SSDs and array controllers, removing duplicate data inline in the data path.
Meanwhile, the dual-stage metadata engine removes the need for system level back-end cleaning, better known as 'garbage collection'. EMC claims this increases IOPS, decreases latency and considerably improves endurance in comparison to Flash arrays that apply garbage collection on a system level.
Proprietary XtremIO Data Protection (XDP) algorithms guard the array against SSD failures while delivering up to six times more usable capacity than traditional RAID without having a negative impact on performance, even when under 100 percent utilisation.
Finally, shared in-memory metadata allows the array to clone information already stored there to accelerate common tasks like deploying virtual machines. According to EMC, this technology can spin up VMs several times faster than previously possible.
This first appeared on TechWeekEurope UK. Read the whole story here.
Read also :