CloudApps And Crichton Team Up To Cut Scottish SME Carbon Emissions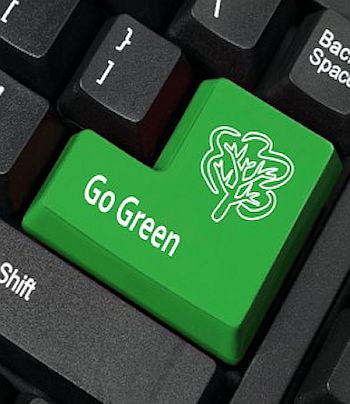 Over 40 companies subscribe to joint Sustainable Process Improvement programme
A partnership has been forged between CloudApps and the Crichton Carbon Centre to help Scottish companies to become more eco-friendly.
CloudApps has inked a deal with the not-for-profit organisation based at the Crichton University, Dumfries, to help businesses to make the transition to a low carbon economy. Around 45 SMEs have already enlisted in the Sustainable Process Improvements (SPI) programme that uses CloudApps' sustainability platform to track energy consumption, with this figure set to double between now and the end of 2014.
Behavioural change
The Crichton Carbon Centre has implemented CloupApps' Sustainability Cloud and services to capture data such as energy and water consumption, allowing businesses to manage and monitor change as resource efficiency recommendations are implemented.
The main thrust of the programme is to encourage changes in the behaviour of employees to drive improvements to SME resource-use efficiency throughout Scotland and position the country as a leader in sustainable business.
In addition to its reporting capabilities, CloudApps' application is being used to engage staff and drive behavioural change, a crucial factor in the success of any resource-efficiency programme, the firm claimed.
The collaboration is rolling out the SPI programme across the three local authority areas of Dumfries and Galloway, North Ayrshire and West Dunbartonshire. The 45 businesses currently enrolled will grow to 60 by the end of 2013 and 90 by the end of 2014. Each organisation is assigned a SPI business advisor who will use CloudApps to guarantee the sustainability platform recommended is bespoke to each organisation, tailored to meet individual needs.
The firms claimed the scheme is already reaping benefits for SMEs. It said that Glenhead Engineering in Clydebank has achieved 23 percent reduction in electricity use at the same time as a 30 percent increase in production. Queens Hotel in Lockerbie has implemented a recycling system, which has reduced mixed waste disposal costs by 35 percent and lowered carbon emissions by over half a tonne per year.
Mike Bonaventura, chief executive of the Crichton Carbon Centre, said, "Working with CloudApps has enabled the Crichton Carbon Centre to play a key role in the transition of the Scottish economy to one of low carbon. It is allowing SMEs to drive both economic and environmental efficiencies. The uptake from Scottish business is proving that there is an opportunity to drive efficiencies that businesses are eager to seize."
Peter Grant, chief executive of CloudApps, added, "CloudApps' sustainability platform is allowing Scottish businesses to enable, enhance and encourage employee behavioural change, driving efficiencies in business processes."