SealPath Seeks Partners To Help Prevent Plagiarism and Theft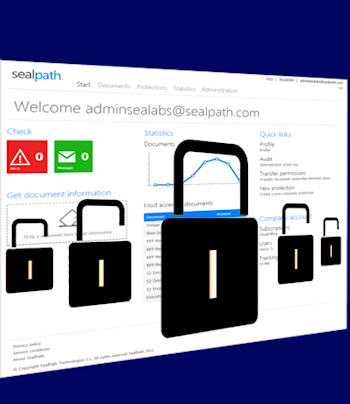 In the cloud or on the ground, stealing company secrets will not be an option, says Sealpath
A cloud-based document management system that could prevent contact lists from being stolen and discourage plagiarism of creative work has been opened in the UK. Spanish security vendor SealPath has set itself the task of finding suitable UK reseller and service provider partners.
The company launched the secure cloud service last year and also has a version that can be installed in a corporate data centre to prevent the leakage of intellectual property. Basically, it tweaks Microsoft's AD RMS (Active Directory Rights Management Services) protection and information technology in a bid to tighten the users' control over their secrets.
Stolen contacts
Stealing information appears to be the norm these days, according to a study last year by the Ponemon Institute. When employees leave or get dismissed from a job, 67 percent said they would take stolen information to their new job.
By introducing tighter, time-based security settings, SealPath said it can dictate who gets access to which document and for how long. Printing can be blocked to all but the most trusted employees. Watermarks – which show who has used the documents – will shame people out of stealing documents, it claimed. A system of monitoring allows security and compliance managers to be all over their intellectual capital like a rash, according to inventor Luis Angel del Valle.
The service can be sold to clients or run for them as a managed service, according to del Valle. Target markets are industries and businesses where intellectual capital is at risk. These include pharmaceuticals, publishing, advertising, PR, law, banking, journalism and any other sector where unscrupulous desperados may exist. Jerry Bates, UK director for SealPath, has been set the task of creating a UK channel.
As the barriers between organisations disappear, the effectiveness of non-disclosure agreements is diminishing, he said. The cloud is exacerbating the danger, as documents can be unwittingly lost in the ether and company secrets discovered by the wrong people. But every cloud can have a silver lining, according to Bates.
"This could be great service opportunity for the channel," said Bates.