WorkSnug Workspace Guide For Road Warriors Reaches Milestone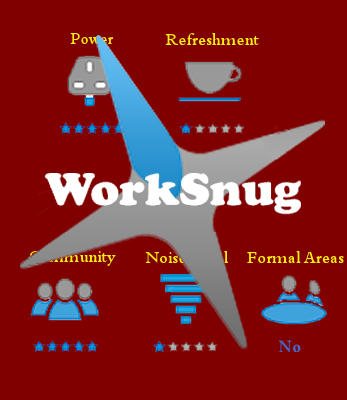 Finding a quiet, effective place to work on the road just got easier
So-called "road warriors" or staff who occasionally have to use coffee shops or business lounges are starting to find WorkSnug, a review service that evaluates mobile working hotspots.
The website is celebrating reaching the 25,000 milestone for user reviews worldwide. First launched in 2009, WorkSnug's team of volunteer reviewers has visited major city workspaces in over 50 countries, including  the UK, France, Germany, Spain, Holland and the US,  to gather information about the quality of facilities provided in "laptop friendly", Wi-Fi, providing establishments.
User reviews
Reviews contain useful information such as the levels of background noise, the quality of the wireless provision, where to find the quieter areas to work, seats close to power sockets, or even which variety of coffee is best. The service can be accessed via apps for Apple iOS, Android, Blackberry and Nokia Ovi devices, through the website at worksnug.com.
Working in partnership with audio and communications specialist Plantronics, WorkSnug has developed its own decibel meter which is incorporated into the apps to help the user community to measure ambient noise levels. The partnership has also produced a VoIP Checker tool which tests the public Wi-Fi network against a number of parameters to determine how effective a VoIP call might be. The results are displayed graphically as a "traffic light" icon indicating red for poor quality, amber for acceptable conditions and green when it is ideal for communications.
WorkSnug is currently examining the possibility of creating a social network to allow its community members to communicate directly with one another to form their own communities of interest. This could also permit work colleagues to find a suitable place to meet when they are on the road.
This interpersonal connectivity is further facilitated by the ability to share their current location within a LinkedIn profile. The location is displayed for a period of time defined by the user, making it possible for a road warrior to see others who may be visiting the same workspace as themselves.
Read also :