X-IO Wishes Its Customers A Trouble-free 'Happy Fifth Anniversary'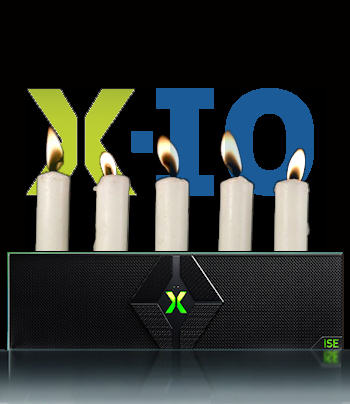 Company pats itself on the back by highlighting customers who haven't called them out for five years
Storage vendor X-IO has unveiled a programme to blast away any doubts about the longevity of  its Intelligent Storage Element (ISE) products. The scheme will highlight customers that have been using the company's storage products for five years or more and have not needed to call out a service engineer or replace a disk drive.
The "Happy Fifth Anniversary" programme is designed to showcase customers and the vendor's product's longevity and ongoing performance. The firm is using the programme to compare its products with rival products that have shorter rip and replace lifecycles.
Solid performance
Among the firms X-IO wanted to promote was Shepherd Chemical, a supplier of inorganic metal salts and organic-based metal compounds. The firm had implemented the ISE product five years ago to help keep its virtualised datacentre up to date.
Jerry Wessel, lead system administrator for Shepherd Chemical, said, "We have not seen a drop in performance or reliability in the five years we have used it. We have had zero issues and, at this point, reliability is just assumed."
This supports X-IO's claim that its ISE products offer both consistent and accelerated performance via hard disk drives (HDDs), or real-time hybrid solutions combining enterprise SSDs and HDDs for a range of Microsoft, Oracle, VMware and Citrix applications.
Another firm, Capis, an institutional agency broker and research provider, has installed six ISE units over the past five years to re-build and expand its storage infrastructure from the ground up. Kevin Kelly, technology network manager for Capis, said he selected the firm's products because of the performance being offered at that time. "X-IO's ISE is a simple solution that I don't have to devote much time to. It just works," he said.
Gavin McLaughlin, solutions development director at X-IO, said, "We encourage everyone to spend five minutes with any of our customers and they'll tell you why X-IO has helped them to get more from their storage. Every storage buyer should be asking their suppliers to provide customer references that illustrate similar five year 'no disruption or no service call out' examples."
Read also :