HP Moonshots Target Telecoms, Web And Hosted Desktop Channels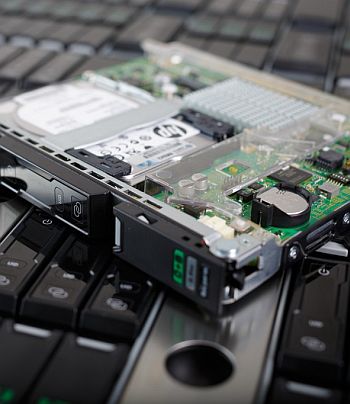 HP's new Moonshot microservers address Big Data, telecoms and dynamic web applications
HP has expanded its Moonshot range of specialised, dense, low-power servers (cartridges) with units designed for telecoms, web and and hosted desktop applications.
The Moonshot range is designed to replace blades with even smaller standardised servers, specialised  for jobs that can be handled well in parallel. The new modules include HP's first AMD-based Moonshot server, its first ARM-based system, and one which is designed for dynamic web content.
Hyperscale hoo-hah
"We'll be launching three cartridges, "  Paul Morgan, HP's hyperscale business manager for industry standard servers, told TechWeekEurope. "They are for hosted desktops, dynamic web sites, and telecoms."
The announcement fulfills HP's plans to deliver multiple Moonshot servers for specific applications (called "software defined servers") , having originally announced the project in 2011. First hardware was delivered in April 2013 as micro-servers based on Intel's Centerton Atom chip, designed for web hosting.
The three new servers are: the AMD-based m700 for hosted desktop implementation; the Intel Atom-based m700 for dynamic Web applications; and the first ARM-based Moonshot server, the  m800, which has a TI-designed digital signal processing (DSP) chip and is intended for telecoms applications.
Every m700 hosted-desktop cartridge has four 64-bit AMD  Opteron-X chips, each with four cores, and integrated Radeon graphics. Each one has its own Dimm memory slotted into the underside of the module.
Users will buy the AMD version packaged up as the Converged System 100 for Hosted Desktops. It starts at $137,000 (£83.6k) for a box which supports 180 machines, running either Windows 7 or 8. That's just entry-level though: Morgan indicated that one four-processor blade could support 180 desktops, and there is room for 45 cartridges in a standard Moonshot rack.
The Intel-based ProLiant m300 cartridge is a follow-up to the first generation of Moonshot cartridges based on low-energy Atom processors. While the launch units had Intel Centerton chips capable of handling static websites, the new models are based on the higher-performance Avoton processor with enough muscle to handle dynamic sites, including those with animation and shopping carts.
Each blade features a single Avoton system-on-a-chip, with eight cores, up to 32G of RAM and a Sata  drive  with up to 200GB (SSD) or 1TB (HDD) storage capacity. "It has a six or seven times performance increase," said Morgan, however the previous module is not being phased out.
The Intel-strand of Moonshot will continue to develop, and its next application will be Big Data, said Morgan. Today, HP has promised that during 2014, it will deliver a Moonshot based Big Data package, called Converged System 300 for Vertica – presumably developed from this blade..
The final cartridge is the m800 which includes four ARM-based chips from TI. Each of these systems has eight digital signal processors designed to handle voice and data  telecoms traffic.
Although HP has traditionally sold well into the telecoms space, this is a bid to annex new territory, Morgan explained. "Typically telcos use a proprietary DSP solution," he said. These sit in telco-specific "NEBS-compliant" racks within the telcos' data centres.
HP hopes that its Moonshot-based telco systems will move some of that activity off the old-school telco systems. "It's the densest DSP system on the market," he told TechWeek, "its blast radius will be phenomenal."  One rack of Moonshot servers could potentially take the place of ten NEBS racks, said Morgan.
HP has publicly announced two more Converged Systems today, with no technical details. Responding to a query from Techweek, the company confirmed these two – the Converged Systems 300 for Virtualisation, and the Converged Systems 300 for Vertica (an HP analytics product) due early next year – have nothing to do with Moonshot.
This first appeared on TechWeekEurope UK. Read the original story here.
Read also :