Michael Dell Announces "World's Largest Startup" At Dell World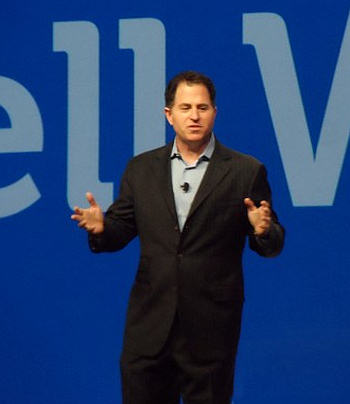 Founder says re-privatised company is free to make long term bets and innovate again
Dell's return to private ownership means it now has the money and the freedom to make long term investments in innovative technologies, CEO and founder Michael Dell told attendees at the Dell World 2013 conference in Austin, Texas.
"This past year has been a really big year for Dell," he said. "You may have noticed we are a private company once again. We are really excited about this."
World's largest startup
Michael Dell was eventually victorious in a contentious battle to determine the future of the world's third largest PC manufacturer, believing it would be better equipped to continue its transformation from a predominantly hardware-focused firm to end-to-end solutions provider away from the glare of Wall Street.
"Privatisation has created a renewed sense of excitement about Dell," he continued. "I feel like I'm part of the world's largest startup."
His hope is that Dell can unleash a sense of creativity under its new structure, something which he said got him thinking about the origins of the company and its initial ambition to make PC's cheaper and more accessible – something which he said Dell is capable of doing with services.
"We have to move beyond products into end-to-end solutions," said Dell, who claimed that "no one" was innovating the way his eponymous company was as it isn't encumbered with legacy platforms it needs to protect.
The Dell founder said this strategy would focus around the four pillars of "transform, connect, inform and protect," and revealed there would be a number of announcements at the conference about trends such as the cloud, mobility, big data and security.
"We believe Dell is your best entry point for meaningful transformation for your infrastructure," he stated.
Michael Dell said privatisation would accelerate its programme of innovation, both in terms of research and development and acquisitions. To this end, Dell has set up the $300 million (£184m) Dell Venture Fund, which will look to invest in early to growth stage companies.
Dell can invest between $2-$15 million (£1.2m-£9.2m) in any funding round, although it will typically spend between $3-$5 million (£1.8m-£3m), possibly in conjunction with other venture capital funds. Initial targets will be companies in the fields of cloud, security, Big Data, data centre technology, mobility and storage.
"At Dell our commitment to innovation has never been greater," he said.
Read also :