Channel Partners Will Be Offered Dropbox On All Dell Tablets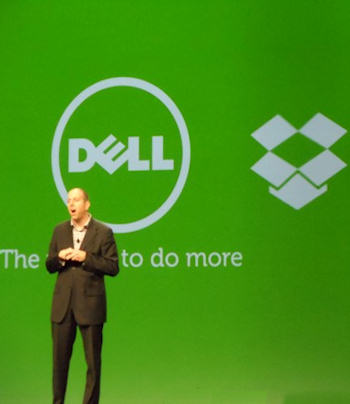 Dropbox will ship as standard on Dell's tablets for added value reselling to business customers
Dropbox has signed a strategic partnership with Dell that will see the cloud storage service preinstalled on Dell consumer and business tablets, secured by Dell Data Protection.
Speaking at Dell World 2013 in Austin, Texas, Dell said two thirds of workers use free file sharing platforms for corporate data, meaning admins needed additional protection. It added that the deal will better allow enterprises to cope with the introduction of personal devices onto the network and allow employees to use their favourite sharing service at home and at work.
Dell Dropbox
"Dropbox is one of the most innovative and fastest growing start-ups and the most popular solution of its kind," said Brett Hansen, executive director, end user computing software at Dell. "Now through Dell's global sales team, Dropbox and Dell can help organisations of all sizes embrace consumerisation of IT while protecting company data."
Dropbox for Business will also be offered through Dell's sales partners, expanding the reach of the platform, and strengthening Dropbox's ongoing push into the enterprise. The company recently refreshed its business offering and now allows users to link their personal and work accounts.
"What we consistently hear from users to make Dropbox useful is to make it available in as many products as possible," Marc Leibowitz, global vice president of partnerships, Dropbox told the audience, adding that it would make it easier for the company to work with other large companies.
"What really matters is that real companies are making Dropbox for Business their enterprise cloud solution."
This first appeared on TechWeekEurope UK. Read the whole story here.

Dell and Dropbox will reveal more details of the partnership in the next few months, with the latter keen to take advantage of its popularity among consumers to increase its share of the business market, in which it competes with Box and larger players such as Microsoft and Google.
Read also :