New UK Firm Offers VDI As A Service And Discloses Strange Digital Habits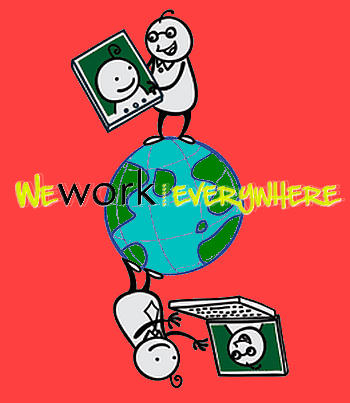 WeWorkEverywhere brings mobile desktops to SME users and finds some are putting the toil into toilets
WeWorkEverywhere has launched a remote access, hosted desktop service and a piece of research that supports its belief that SME's want more mobility. The service is powered by IT consultancy Northdoor, which has a track record of delivering both cloud and managed services.
The service is a virtual desktop infrastructure (VDI) platform that enables users to connect to their hosted desktop from any PC, Macintosh or mobile device. According to the 250 SME workers contacted by the company, this should suit plenty of workers, with only 13 percent claiming never to have tried working remotely, WeWorkEverywhere maintained.
Digital inclusion
Richard Reggel, head of cloud  services for WeWorkEverywhere, said, "WeWorkEverywhere provides users with the same 'look and feel' as their current desktop PC or laptop except that it is provisioned in the cloud. This gives users freedom to work remotely, to rapidly scale their business without impacting on productivity and to meet fast changing customer demands."
He added that the service also gives organisations a rapid and cost-effective way of migrating from Windows XP and Office 2003.
The platform  is based on Citrix running on Microsoft's Windows Azure and delivered as a managed service with predictable pricing. It also offers the option for adding line of business servers to the Azure cloud to offer what the company described as "a truly scalable and resilient offering".
"Every organisation wants controllable IT costs and predictable pricing but that can be hard to achieve if you are a rapidly changing business. WeWorkEverywhere offers price certainty and a solution that is priced according to a businesses' needs. Organisations only pay for what they use," Reggel explained.
The research is not purely a plug for WeWorkEverywhere's product, it also highlights the concerns of SMEs and mainly confirms that security and reliability still tops their list.
Two-thirds of those questioned placed security as their main concern, with 40 percent worrying about limited budgets, 34 percent wanting the ability to access documents and files remotely. Issues around upgrades and maintenance came fourth with 32 percent ticking the box.
Over half (59%) are using some form of cloud services with 33 percent of them using email services and the same number using storage backup.  However, security is still an issue with 60 percent of the sample and 42 percent do not feel comfortable about service providers controlling their data.
The good news for WeWorkEverywhere was revealed in a question about remote working. Hotels, airport lounges, coffee houses, and public transport are all popular places but the survey also revealed a few odd workplaces. In the bathroom, hi-tech seems to be replacing newspapers ( as reading matter at least) with nine percent admitting to this. A healthier six percent work at the gym but, more worrying – or annoying,  is that a similar number confessed to using their mobiles in cinemas or theatres.
With a few people saying they use their devices in the pub, on beaches, at football matches, and using satellite links at sea, it really does appear that there is nowhere free from the digital invasion.
Read also :