Dragons Awaken To Breathe Financial Fire Into The IT Industry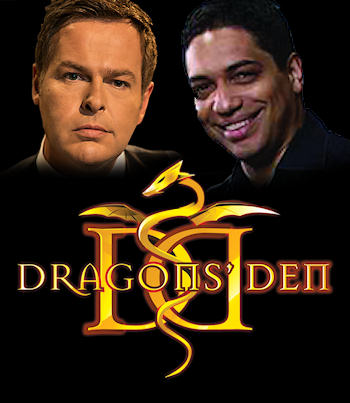 Two Dragons' Den celebs are independently pushing their investment plans but not without problems
Stars of the Dragons' Den TV series Peter Jones and Piers Linney have both been grappling with IT interests. Jones has been making a last ditch attempt to scale up his Expansys intersts and Linney won through to help Nimans hatch their EnergyEgg motion sensor – but complications of having existing independent investors soon dimmed the glow of success.
Jones has been a major shareholder in troubled Expansys and is bidding for greater control. Linney, one of Outsourcery's two CEOs, has been involved in a TV scramble to invest in Nimans energy-saving device.
Expansys  made a slim profit of £0.3 million in the six months up to October last year but was hit with a £2.1 million write down in relation to its nascent US SIM business. Jones wants to gain total control of the business for his PDJ Bidco group.
The latest bid increases his £6.1 million initial offer to £7.55 million to account for market assessments of the value of Expansys. PDJ Bidco has said that this will be a take it or leave it "full and final" bid.
Jones already owns 51 percent of the shares and through PDJ Bidco and favourable shareholders he has potential control of 65.75 percent of Expansys.
In the Dragons' Den, Jones and his fellow Dragons were pitched by Nimans for investment in an energy-saving device that senses movement in a room. When there is no movement it automatically turns off devices such as TV's, games consoles, DVD players and lights potentially saving 30 percent on the running costs.
The EnergyEgg project was hatched by Brian O'Reilly, a father of four who found himself constantly nagging his wife and children for leaving home appliances on when nobody was using them.
On the BBC2 programme, Piers Linney successfully bid to sink $50,000 into the project but the other Dragons – Jones, Duncan Bannatyne, Kelly Hoppen and Deborah Meaden – viewed it favourably. Hoppen said she "would buy one" adding that O'Reilly had "created something that's incredibly useful".
Although cloud computing guru Linney made a successful offer, the venture was blocked because it was dependent on the views of his other investors – a definite deal-killer in the Den.
Nimans has taken the positives from the experience. "To appear on national TV and gain such positive feedback from some of the most respected players in British industry was fantastic," O'Reilly recalled. "The show attracts several million viewers each week and, although it was a slightly nerve-wracking experience for me, it was definitely worthwhile and a great platform to build on. I'm hoping my appearance will help take EnergyEgg to a new level of awareness and spread the word far and wide."
Prices for theEnergyEgg  range start from £49.99:
Read also :