VMware Joins The Revolution With Its Virtual SAN For vSphere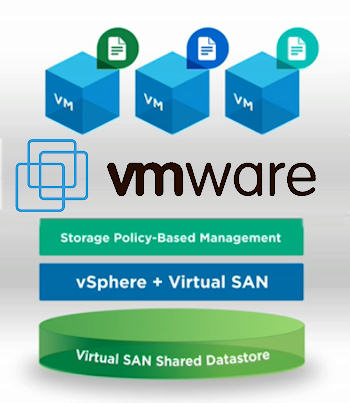 CEO Gelsinger's VMworld promise is fulfilled as software-defined Virtual SAN storage hits the market
VMware has lent credibility to the Virtual Storage Area Network (VSAN) market with the release of its first software-defined storage product, Virtual SAN.
The virtualised storage system has been designed to integrate with the vSphere kernel and aggregates internal magnetic and solid state Flash storage devices into a shared data store for virtual machines running on an x86 server.
Credible technology
The technology was flagged at VMworld 2013 last October when VMware CEO Pat Gelsinger announced the release of the company's NSX virtual networking and detailed the roadmap into the VSAN market. The release of Virtual SAN now brings VMware into the competitive market kick-started by startups such as Nutanix and SimpliVity.
John Gilmartin, vice president and general manager of the SDDC Suite Business Unit at VMware, said, "Today VMware changes the way that storage has been operated to date. VMware Virtual SAN is a radically simple storage solution optimised for virtual environments that brings an application-centric approach to storage management. Customers that know VMware vSphere know VMware Virtual SAN, and can rely on that familiarity to hit the ground running."
While disputing that the new product is quite as revolutionary as Gilmartin claimed, Nutanix has welcomed VMware's entry into the market.
"VMware's Virtual SAN product is terrific validation of the distributed, scale-out storage architecture that Nutanix has pioneered for over four years" commented Howard Ting, VP of marketing and product management for Nutanix. "But, in order to run all workloads, these software defined storage products must deliver all enterprise class data management features such as deduplication, compression, snapshots, and disaster recovery – without adding excess complexity and licensing costs."
VMware said that the hypervisor-converged architecture within the vSphere kernel offers a more efficient data path resulting in better performance. It is also claimed to consume less than 10 percent of CPU resources.
Initiating Virtual SAN can be achieved with two clicks using the vSphere Web Client and can take advantage of vSphere to access backup, cloning, replication and snapshots as well as features VMware's Distributed Resource Scheduler, High Availability, vMotion and Storage vMotion.
Flash read/write caching is used to improve performance and clusters can be linearly scaled on demand by adding nodes to a cluster or disks to individual nodes.
For compatibility assurance, VMware provides pre-validated server configuration specifications (Virtual SAN Ready Nodes), and a component-based hardware compatibility list for implementors that want a more-customised component mix.
David Sampson, CTO of converged data centre provisioning and services company Itrica, commented, "With VMware Virtual SAN, Itrica now has the capability to right-size storage solutions for our customers. Having a hypervisor-converged storage solution that's spread across our host machines, replicating data all the time, and operating in a similar model to how compute virtualisation works, makes perfect sense for what we're trying to accomplish."
VMware Virtual SAN costs $2,495 (£1,500) per processor and Virtual SAN for Desktop is priced at $50 (£30) per user.
For a limited time, two bundles have also been offered: Virtual SAN with vSphere Data Protection Advanced comes in at $2,875 (£1,730) per processor, and vSphere Storage Appliance customers can upgrade to Virtual SAN at 20 percent off the list price.
Read also :