Keeping Up With The Changing Pace Of The Channel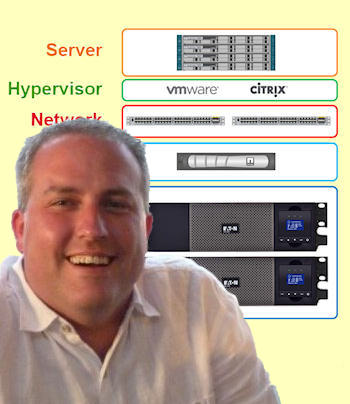 The secrets of selling keep changing but Dave Oddie at Eaton believes packages now provide the solution
Resellers that are willing to take advantage of the opportunities a solutions-based model presents need the support of a vendor whose partner programme guides them on both implementation and on this "new" approach to selling. Support from a vendor within a partner programme needs ultimately to begin with increasing a reseller's knowledge base and this goes beyond simply educating them on product.
Training that provides insight into the latest market-specific issues and trends, coupled with product and sales training that demonstrates to partners how to qualify solutions sales opportunities, arms resellers with the best possible foundation to understanding end-user needs and increasing sales by adding value. Whether the training is in the form of an online portal, webinars, or face-to-face, resellers can gain a lot, enabling them to pass on impartial and sound advice to their customers.
Dynamic solution
While training support in product knowledge and selling must be at the crux of a partner programme, in order to provide partners with the best level of support vendors need also to be available, dynamic and reactive to the needs of customers. This requires vendors to have a more hands-on approach in supporting resellers who are selling solutions, perhaps in the form of providing a project team that can be called in to help on large or complex projects.
The benefits of this method ensure that, when it comes to very technical projects, resellers are supported all the way and the vendor can make sure that the specialists are deployed to ensure that the project is finished correctly and delivered on time.
With the solutions-based approach, the tick is always having a firm focus on the overall needs of the customer: what is right for the customer is, in the end, what is right for a vendor and its partners. Not only are end-users provided with the best all-round solution and highest-quality service, but it also ensures that business is funnelled through to a vendor's partners, delivering a personal touch on behalf of the vendor that partners and customers will both appreciate.
This approach might sound too involved for some partners that fear"channel conflict". However, if a vendor truly values its partners and is really focused on success through a solutions-based model, then it will understand the importance of maintaining channel integrity with an ethical approach. What's more, with access to a vendor's expertise, knowledge and training, resellers will gradually become better equipped to carry out the solutions sales and implementation on their own and won't require the intensive support from vendors that they once did.
Success in the channel for vendors and resellers alike is based on mutual respect and beneficial working relationships that seek to meet the growing demands of customers. Nowhere are these relationships more important to a vendor than when trying to expand in a growing market.
Value-add salesforce
The trend for less sales people working in the channel means that vendors are looking to increase their sales forces through value-added resellers that will help deliver ready-made solutions into growth areas.
According to a Spiceworks report on the IT sector for small and mid-sized businesses in the first half of 2013 (State of SMB IT 1H 2013), adoption of server virtualisation has increased seven percent since the second half of 2012, with 72 percent of respondents now using this technology and 80 percent planning to use it within the next six months. For Eaton, this is a huge potential growth area with solutions that can link to virtualisation platforms, pathing the way for co-operation with VMware and NetApp bases.
Working closely with vendors that have a strategic focus on a particular market based on intelligence into what end-users want, distributors will continue to drum up the bigger business opportunities that focus on solutions and not just shifting product. Resellers have a golden opportunity to work in partnership with a team that is thinking in terms of overall solutions and not just individual products, seeking to bring maximum benefit to the customer and helping to grow the business of the reseller.
No one is saying this shift to a solutions-based channel model is going to be easy; indeed it's only just starting to happen. It's going to take a large investment of time and effort on the part of both vendors and resellers, but it will soon become clear that, in order to realise sustainable and long-term success, the channel has got to accept the shift and recognise the huge opportunities that come with the changing face of their business operations.
Learn more about Eaton's power quality solutions. For the latest company news follow @Eaton_UPS or Eaton EMEA LinkedIn company page.