BotObjects Promises 12x The Speed Of Competing 3D Printers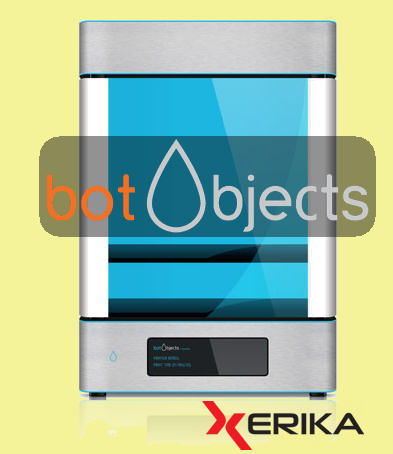 British company says it is reducing full-colour 3D printing times from hours to minutes in its latest models
UK startup BotObjects has claimed that its latest ProDesk3D will be faster than the average printer – by up to 12 times.
The promise is in line with its stated mission to "change the face of the 3D printing market" by leading with advancements that will trigger mass-market adoption of the technology.
Search for speed
"Speeds and feeds" have always dominated the printer market since the first dot-matrix made its impression. The 3D market is no different and the hours taken to produce results, together with high prices, has been a major bock to wider uptake.
BotObjects appears to think that speed is the key to the mass sales it seeks. Price is a secondary concern with a basic price tag of £3,249 placing it on the border of the consumer to professional markets.
Martin Warner, CEO and co-founder of BotObjects, explained, "We are now enabling the ProDesk3D range to dramatically increase its speed so that large 3D prints can now be done in minutes. We firmly believe this move is as transformative as the original printing press and will galvanise the prototyping and design establishment and set the new benchmark for the industry to follow. The speed of this new printer is a real game-changer. Speed is at the heart of mass consumerisation for 3D printing."
The company is one of the fastest growing UK start-ups and now has a dual base in London and New York. The move to the US was supported by a programme to break into the lucrative education market and to provide support for American users.
"We believe that the ProDesk3D will revolutionise the 3D desktop printing market, like Apple did for the PC.  Re-defining professional grade printing in a powerful and luxurious printer with essential features such as full colour, auto levelling platform and simplifying the approach of plug and play," Warner said.
BotObjects does not really qualify its speed claims other than to specify that its fused filament fabrication  (FFF) system is capable of  producing objects at "up to 12 times the speed of the average 3D desktop printer". In previous models the full colour, 25 microns printer was said to print four times faster than fused deposition modelling (FDM) printers, at a speed of 175mm per second.
Currently, the sole distributor in the UK is Xerica but the company is seeking toincrease its channel presence.
Read also :