Cobweb Solutions Gains Microsoft Cloud Accelerate Distinction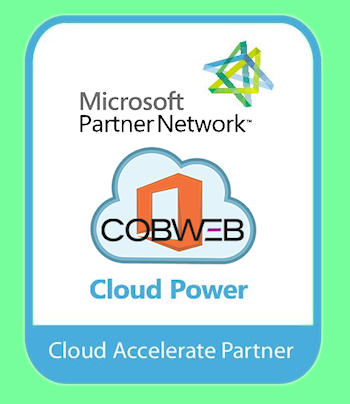 Cobweb joins Microsoft's elite corps of cloud partners by demonstrating success and commitment
Microsoft's Cloud Accelerate programme has accepted Cobweb Solutions as a member. The company has qualified through its proven ability to meet Microsoft's customers' evolving needs in today's dynamic cloud marketplace.
The company had to successfully demonstrate its cloud services expertise through rigorous, technical assessments to show it would be capable of ensuring the highest quality of services support. Microsoft also requested customer references to demonstrate successful customer implementations and satisfaction.
Select company
With the Cloud Accelerate badge, Cobweb now joins the top echelons of the Microsoft Cloud Essentials programme. Of the 25,000 Essentials partners, fewer than 1,000 have matched Cobweb's achievement.
Mark Davies, sales and marketing director at Cobweb, commented, "This qualification has only been achieved by a select number of Microsoft partners and we are looking forward to passing on its benefits to our customers. It recognises Cobweb's commitment to providing the highest standard of public cloud services such as Office 365, as well as our own bespoke and private offerings, while delivering increased value to our clients."
Founded in 1996, Cobweb claims to be Europe's largest cloud communications provider and one of the world's longest-established cloud communications providers, supplying more than 6,000 business customers with over 130,000 email boxes.
With 640,000 partners in the ecosystem, the Microsoft Partner Network helps resellers to strengthen their capabilities to show leadership in the marketplace on the latest technology, and to offer a better service to their customers.
Jon Roskill, corporate vice president for Microsoft's Worldwide Partner Group, said, "Attaining the Cloud Accelerate Badge demonstrates the partner's ability to implement solutions that solve today's customers' business challenges utilising cloud services. By joining the Microsoft Cloud Accelerate programme, this partner has proven its understanding of Microsoft cloud technologies and is poised to drive business opportunity in today's cloud era."
Read also :