EMC Moves Into The Software-Defined Hybrid Cloud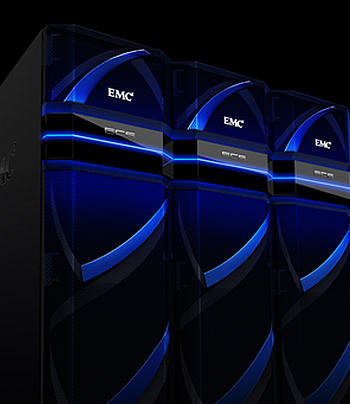 The storage giant has announced products that will help customers move onto a hybrid cloud
Helping customers to accelerate their transition to hybrid cloud topologies has prompted EMC to announce a series of upgrades to its storage line-up.
The company has announced new product in its XtremIO Flash storage systems, enterprise storage and Scale-Out NAS portfolios.
Software defined
Organisations have been harnessing social, cloud, mobile and Big Data advances to build new applications resulting in a 29 percent annual data growth in existing application workloads, a continued 58 percent "drag" incurred by supporting infrastructure applications on business applications, and an escalating need for faster performance for specific application workloads, EMC said.
The latest product releases aim to reduce the cost of running these workloads and to bridge the management of both new and existing applications.
David Goulden (pictured), CEO of EMC Information Infrastructure, said, "Organisations harnessing the four IT megatrends of social, cloud, mobile and Big Data to build new applications are redefining their industries. IT must drive cost efficiencies to fund the new applications businesses are asking for. Although these new applications will be architected differently, they cannot become another IT silo.  Today's announcements deliver IT organisations with the ability to redefine possible, by dramatically reducing the TCO of existing application estates, and accelerating new application delivery on their journey to the hybrid cloud."
The releases Goulden referred to were XtremIO,  VMAX3,  Isilon OneFS, and the availability of  ViPR 2.0, ViPR SRM (Storage Resource Management) 3.5, and an ECS Appliance.
Changes to XtremIO has brought a free version 3.0 software code upgrade for existing XtremIO arrays. This offers improved security, capacity, performance, and functionality, the company said. These offer more scale, more capabilities and more support for consolidated, virtualised and performance-hungry workloads.
The introduction of the VMAX3 storage virtualisation family transforms the current VMAX from an enterprise storage system into an enterprise data service platform. This has new levels of cloud-like agility, efficiency and control within the data centre to offer a foundation for hybrid cloud and to deliver storage-as-a-service.
An upgrade to the Isilon OneFS operating system so that it provides a single repository for all data – what EMC calls a Data Lake. The new products and capabilities have been designed to help customers advance their ability to ingest, store, protect and manage these massive stores of unstructured data.
ViPR 2.0 and  ViPR SRM 3.5 form the basis for building a virtualised storage infrastructure on commodity platforms – from a cluster of two arrays up to a hyperscale, multi-Petabyte (PB) environment. ViPR is the engine that drives EMC's storage virtualisation. ViPR SRM is the toolkit that allows storage managers to view what is going on inside the virtual storage world and can show where bottlenecks may be occurring.
ViPR 2.0 is the driver for the new ECS Appliance – a combination of the operating environment and preconfigured commodity hardware. EMC said that it reduces storage costs and balances the benefits cost, simplicity and scalability of public cloud with the security and control of a private cloud.
The company has already shipped its first appliance, a single system totalling 3PB, to the Vatican Library.
Jeremy Burton, president of EMC products, marketing and solutions, commented, "Customers are dealing with the reality and challenges of managing a variety of workloads – while supporting new demands to build new applications, both on-premise and in the public cloud. There is no one-size-fits-all solution. Today's new innovations from EMC deliver customers the foundation needed to manage existing and new application estates and accelerate their journey to the hybrid cloud."
Read also :