University Hospitals Morecambe Bay Storage Problem Solved By NexStor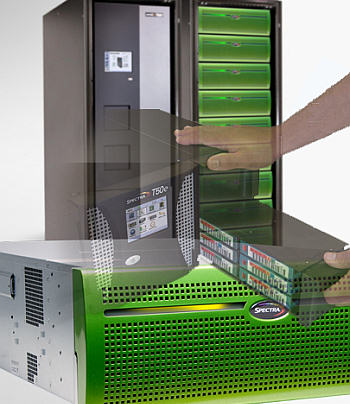 NexStor increases data storage capacity and backup efficiency using Spectra nTier and T50e
The University Hospitals of Morecambe Bay Trust (UHMBT) has improved its storage capabilities with the help of data systems integrator NexStor.
The hospital foundation, which covers South Cumbria and North Lancashire, is now using Spectra Logic's nTier Verde and T50e tape drive library which NexStor selected because they could demonstrate compatibility with the CommVault Simpana applications already in use at UHMBT.
Five year plan
The deployment was designed to help address issues the UHMBT was experiencing with speed and to improve data protection, backup and archive processes at the hospital's main centre at Barrow-in-Furness, Cumbria. The storage element forms part of a five-year NHS Trust plan for on-going improvements concentrating on IT infrastructure, facilities, cost management and organisational performance.
Troy Platts, founder and joint managing director at NexStor, said, "The previous backup-to-disk solution at UHBMT was running at virtually maximum capacity. The hospital needed to migrate to a faster tape storage unit that could handle larger volumes, making nTierVerde the natural choice. I'm pleased to say that the Spectra Logic T50e library has also lived up to its reputation of fast, reliable backups and has proved to be a highly dependable unit."
Since the installation, the foundation said it has been experiencing fast, efficient, reliable backups, supported by secure archiving. UHMBT added that it now feels the storage system has the capacity to grow and meet increasing data management requirements.
The foundation comprises the Furness General Hospital in Barrow, the Royal Lancaster Infirmary in Lancaster and the Westmorland General Hospital in Kendal. The 5,000 staff needed to have 24-hour access to live data and had to commit to overnight backups to avoid daytime bottlenecks and system slowdowns. With 5,000 employees current data demands can reach 25TB of emails, plus unstructured file data and SQL databases from numerous departmental clinical systems which all needed to be backed up.
Before appointing NexStor, UHMBT considered other tape storage suppliers but said it felt the Spectra Logic products' compatibility with Simpana promised the best deal. The combination has eradicated the complexity of tiered storage and has started to reduce the cost of data protection, management and access.
Read also :