Violin Memory Announces Deduplication For Concerto 2200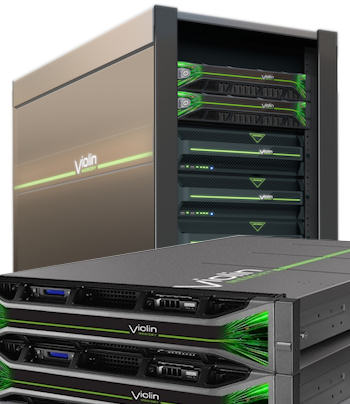 Latest deduplication and compression move promises granular control for virtual environments
Violin Memory has announced the immediate availability of data deduplication and compression capabilities on the Concerto 2200 data reduction appliance. The system would initially target Virtual Desktop (VDI) and Virtual Server (VSI) infrastructures.
The 2200 consists of two high availability (HA) appliances that were introduced as an enhancement for Violin 6000 and 7000 All Flash Arrays to allow them to support NFS environments. The addition of compression and deduplication reduces the amount of data written to the arrays.
Finely tuned data
Violin said the appliance is focused on mixed and multiple workload environments and gives customers granular control at the file, share, and share group level. Inline deduplication and compression can give deduplication rates of between 6:1 and 10:1.
Randy Kerns (pictured), senior strategist for the Evaluator Group, commented, "Violin Memory's new Concerto 2200 array update with inline deduplication capabilities bring value to customers with performance and capacity improvements for workload demands. Combining the tier one all-flash array performance with features for scalable virtualisation implementations, Violin has a solution for enterprises to improve their economics."
The Concerto 2200 HA appliances deduplicate and compress shares, share groups or files from NFS and write the data to logical unit number (LUN) partitions on the Flash array. The LUNs being serviced can all be on one array, or scaled across up to four arrays, depending on customer requirements. With 6:1 data reduction, the  system is capable of storing 672TB of data – enough data for 2,500 persistent desktops in a VDI deployment at a street cost of approximately £1.09/GB or £45/desktop.
The Concerto 2200 dashboard displays the effective rate of deduplication on customer workloads and that information is used to remove the shares from deduplication, or add additional similar workloads that will benefit from data reduction.
"Granular, inline deduplication and compression are powerful tools for customers to maximise storage efficiency while optimising performance at the application level," said Eric Herzog, CMO and SVP of alliances at Violin Memory. "We see competitors who offer 'always on' deduplication and compression, but we know that, depending on the customers' workloads, performance may suffer as a result of the always on approach."
Violin's data reduction services for NFS environments on the Concerto 2200 are available now. A version for block storage is expected to follow in early 2015.