Seagate Launches World's First 8TB Hard Drive For Unstructured Data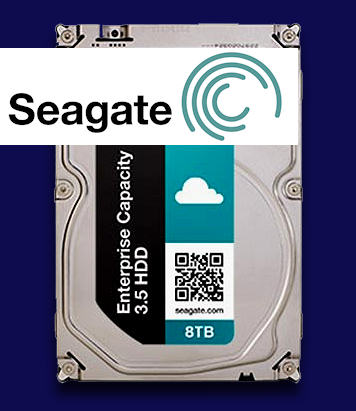 Seagate's latest drive gives it a lead in storage density but the technology used is still a secret
Seagate has started shipping what it claims to be the world's first mechanical hard drive to offer 8TB of storage. The latest entry in its Enterprise Capacity product line comes in a standard 3.5-inch form factor, and can instantly double the storage density of existing servers.
The previous record for commercial HDD capacity was set last November by Western Digital, which used a helium-filled casing to enable an increased capacity of 6TB. Seagate also announced its first 6TB drive in April 2014. The larger capacity drives were primarily designed for bulk storage of cloud content, object storage and back-up and disaster recovery.
Size matters
By considerably increasing the capacity of a drive, Seagate said it had created a device with a lower price-per-GB and, as a result, lower total cost of ownership (TCO) than the current standard 4TB drives. At the same time, the new entry offers the lowest Watt-per-GB ratio in the industry, reducing operating costs and increasing the green credentials of the units.
"Public and private data centres are grappling with efficiently storing massive amounts of unstructured digital content," said John Rydning, IDC's research vice president for hard drives. "Seagate's new 8TB HDD provides IT managers with a new option for improving storage density in the data centre, thus helping them to tackle one of the largest and fastest growing data categories within enterprise storage economically."
The new drive will connect through a SATA 6Gb/s interface, but the information available to the press does not mention what technology Seagate used to boost thestorage density. Although the company said it wil reveal these details later, previous comments from Seagate have led some experts to suspect it could be Shingle Magnetic Recording (SMR).
This would use a technique that marginally overlaps neighbouring recording tracks to allow more tracks to be squeezed onto a disk's surface. SMR depends on the traditional HDD hardware components, but requires specialised software to work. Seagate said SMR showed promise to produce drives with 20TB capacity by 2020.
Seagate increased controlled shipping of the 8TB drives to select customers last month, expecting wide scale availability next quarter. When initially announcing this release was on the cards, the company claimed it would deliver 10TB hard drives before the end of this financial year.
By 2016, Seagate hopes to launch hard drives featuring Heat-Assisted Magnetic Recording (HAMR). This would use a recording head that includes a tiny laser to heat up the medium before information is written and thereby allow the use of smaller magnetic grains and narrower data tracks. The technology was successfully demonstrated in 2012 and could take information density from the 8TB drive's 1Tbit per square inch to an incredible 5Tbits/in2 – but it is said there are still plenty of kinks to be ironed out before the technology is ready for market.
Read also :