Xerox Apps Up Its WorkCentre Range, Introduces Linen Printing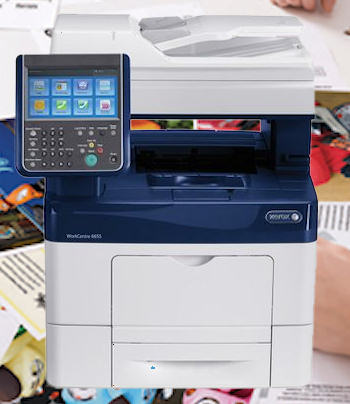 ConnectKey upgrade and new printers improve mobile access, colour printer uses linen instead of paper
Xerox has made improvements to its ConnectKey software and hardware as it changes its multifunction  printers (MFPs) to meet the changing needs of a mobile workforce.
The upgraded ConnectKey 1.5 software has been upgraded to make it easier for partners to customise the control panel screen display to accommodate their own apps to meet customer needs. The hardware has also been extended to include two  new A4 MFP models.
Key improvements
ConnectKey is designed to expand the capabilities of Xerox MFPs beyond basic print, scan, fax and copy functions. It allows users to choose where they print from as they move around with their devices. Hard copy can be scanned to cloud storage services to allow access from anywhere and to enable collaborative projects to continue wherever the team members prefer to be based.
To expand on these broad capabilities, channel partners can develop and embed simple apps into the printers using the tools within Xerox's Extensible Interface Platform 3.0, such as WebKit.
At the unveiling of the product line-up, Toni Clayton-Hine, vice president for channel partner operations at Xerox, said the company was concentrating on the three pillars of its strategy: Expand, Connect, and Simplify. The aim is to help partners to expand into new sources of profitable revenue by connecting Xerox technology and managed print in every way it can. The aim is not just to serve existing customer bases but to assist partners to acquire new customers.
"This idea of acquiring new customers is a very specific focus for Xerox That's why we are introducing something called The Keys to New Business, "she said. "For those of us who have been in the channel for a very long time, we know that 80 percent of a partner's business comes from existing customers. But when you look at the commoditisation of an actual product and margin pressure, not just for the product, but also for the services, a partner, no matter what type they are, can't grow without focusing on capturing nett new customers."
Xerox App Studio 2.0 has been launched to allow this expansion by delivering a tool to the partner community so that specific apps can be developed and branded to meet individual customer's needs and to fit more easily into their chosen cloud services.
Secure Access Version 5.0, a print management solution, has been changed to remove the hardware element to allow customers to use authentication features at the lower cost software-only products bring. The company also claimed its latest Mobile Print Solution, version 3.0, could offer more convenience, increased security and greater flexibility in job submission. This would include the ability to choose media size and select page ranges for printing.
On the hardware front , the WorkCentre range of MFPs now includes four models: the 6655 Colour A4 MFP, a 60-sheet duplex machine with a 1,250-sheet automatic document feeder and 36 pages per minute (ppm) colour or monochrome feed;  the 3655 Monochrome A4 MFP which adds a larger capacity of 2,350 sheets at up to 47ppm;  a 7970 Colour A3 MFP which prints up to 70ppm in colour and mono with option for C and Z folding capabilities and has "enhanced productivity and flexibility in app creation"; and  a 5945/5955 Monochrome A3 MFP with a clean-sheet design to offer sharp image quality through LED technology and Emulsion Aggregation toner, running at 45-55ppm.
The new ConnectKey-enabled MFPs, Xerox App Studio 2.0, ConnectKey apps and Xerox Mobile Print Solution 3.0 have already been made available for ordering and Secure Access Version 5.0 will be available in October.
Publicity seekers
Xerox  has also been working on short-run publicity document printers. The Colour C60/C70 Printer covers a wide range of printing needs for small print shops producing  high quality flyers, brochures and information sheets.
The printer has been pitched at quick print shops, in-plant operations, agencies, small businesses and manufacturers and can be used with a number of media types: paper, polyester, vinyl, and linen. Using linen as a printing medium is a first for Xerox and has opened up the possibility of producing high quality, textured greeting cards and invitations. Xerox's Emulsion Aggregation (EA) toner, with its ultra-low-melt technology, navigates the traditionally difficult peaks and valleys in linen and bonds with other special substrates like polyester.
With a 2400 x 2400 dots per inch resolution and reliable front-to-back registration accuracy, the printer can be combined with flexible inline finishing options, such as stapling, hole-punching, folding and face trimming.
The Xerox Colour C60/C70 is available for immediate order taking. The base price is from £18,900.
Read also :