Dell's 2020 Vision Of Future Data Centre And Server Architectures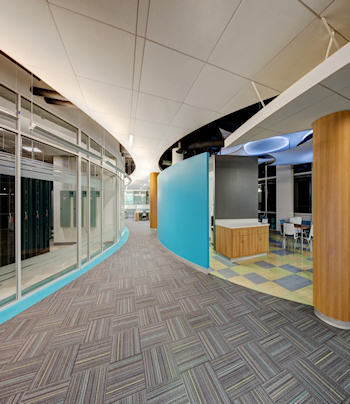 Dell's chief researcher predicts data centres will be full of servers, servers and nothing but servers
Dell's head of research made a series of predictions about the future of IT during the company's Solutions Summit in Brussels.
Jaishankar'Jai' Menon, chief research officer at the recently-established Dell Research division, told the press he believes in a move from a software-defined data centre to a software-based data centre, where homogenous servers fulfil all functions of networking and storage. He said that, by 2020, an average 2U server would feature 80 CPU cores, store most of its data on flash, but also include a new type of non-volatile memory that's not even in production yet.
Next tech
Dell Research was established after the company's privatisation, to bring all of its R&D efforts under one roof. The engineers here have ample opportunity to innovate – Menon said his aim is to get just about 70 percent of the things they work on into products, so there is plenty of room for riskier projects and long-term goals. Among other things, the division looks at data centre trends, trying to predict where the server market will go in the next five to seven years.
Menon (pictured) started with storage, proclaiming that "flash is the new disk, disk is the new tape". He anticipates that lower cost flash will completely replace the high performance 15k (15,000 rpm) drives in the next three or four years.
This doesn't mean that hard drives as a storage medium are going away but, as they grow in size, they are likely to be redelegated to "cold" storage and archival duties. As software replaces specialised hardware, servers will start to do things never before possible with just servers.
"There will be whole new markets for servers in places where we never saw servers before," Menon said.
He believes that eventually, data centres will move from being software-defined to what he calls software-based. The difference here is software-defined still requires at least three different components: servers, storage and networking. In a software-based data centre, servers rule supreme, and storage and networking functions are all completely virtualised.
So how exactly will such a server look in 2020? According to Dell, a two-socket 2U server will have 80 CPU cores, 12 TB of memory with a total bandwidth of 400 GB/s, 96 TB of disk capacity and total network bandwidth of 600 Gb/s.
Servers of the future will need faster non-volatile memory too, to occupy the position between flash and DRAM. Such memory will have to be 50x-1000x faster than current generation flash, but offer around a hundred times more read-write cycles. According to Menon, the most promising candidates in this space are Phase Change Memory (PRAM) which is likely to appear around 2016, and Resistive RAM (RRAM) which is expected in 2018.
Another trend that's going to impact servers is customisable compute – and that's being driven by analytics. It essentially means hardware acceleration for common workloads, right on the processor (SoC), and such capability will be offered with Intel's upcoming Xeon D silicon.
Menon said that, in the next five years, advances in liquid cooling will result in completely passive immersion systems that will potentially allow using up to 6MW of power per rack. They will require no heatsinks, fans or pumps, and will enable engineers to build data centres with a power usage effectiveness (PUE) of less than 1.03, across all climates.
According to Dell's chief researcher, much of this development will be driven by the Internet of Things. He said innovative IoT applications will require better security, management and data capabilities, and while progress was undermined by the lack of standards, success stories would encourage adoption.
Menon closed by saying Dell Research is ready to do its bit, having just opened an IoT lab in Santa Clara.
Read also :