InfoTrends Publishes Customer Comms Management Guide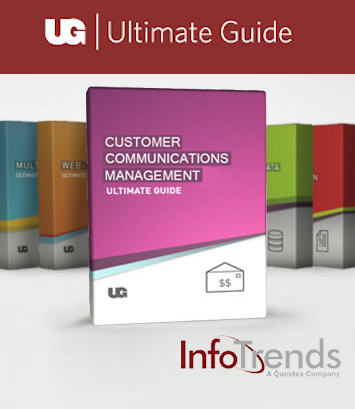 The print service providers' online guide now covers the latest marketing communications products
InfoTrends's has replaced the Enterprise Transpromo guide with a Customer Communications Management (CCM) version to provide in-depth information on document composition and automation/interactivity features.
CCM has been created to standardise processes across an enterprise. When sending targeted communications to customers across many channels. Its beginnings can be traced back to transactional data management, hosted on mainframes, but it now extends into marketing, service and other departments.
Ultimate marketing
InfoTrends Ultimate Guide Online was set up to help print service providers, marketing service providers and creative professionals in the decision-making process for purchasing software and hardware for printing and print -related services.
The CCM guide similarly applies InfoTrends methodology to the customer communications market. CCM products have been developed to support strategies and technologies for the creation, administration, production and fulfilment of multichannel marketing communications. These may take the form of scheduled or structural documents, such as monthly invoices or annual statements; triggered on-demand brochures comprising welcome kits, insurance proposals or claims processing, for example; or interactively developed pamphlets created through a request for information from a client using an online or mobile interface.
According to David Stabel (pictured), associate director for InfoTrends' production workflow and customised communications services, "As enterprises continue to align their organisations to follow best practices, and focus their efforts on the customer experience, they will seek solutions that are able to accommodate a variety of communication applications and channels."
He added that the recent financial crisis has also put a strain on enterprises with changing regulations, placing compliance and government burdens on them and making the choice of CCM products more critical.
The Ultimate Guide to Customer Communications Management can be acquired through InfoTrends website.