Mitel Revised Take Over Proposal Rejected By ShoreTel Board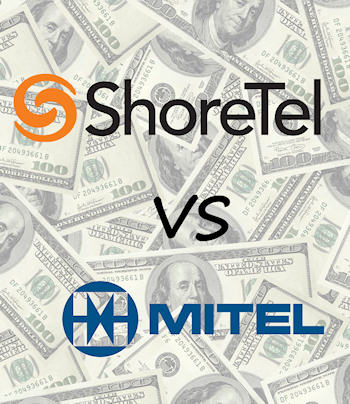 ShoreTel says new proposal from Mitel is "highly inadequate" and unanimously rejects it
Mitel Networks' ongoing efforts to woo ShoreTel's board of directors into accepting its takeover bid have once more been rejected as undervaluing the  phone systems and unified communications company.
At the end of October, Mitel started its unsolicited initiative to buy its competitor but the first offer was rejected and Mitel hoped that by edging up the first offer it could clinch the deal.
Undervalued proposal
ShoreTel concluded that the revised share-based proposal of $8.50 (£5.44), which is basically the original 27 October bid of $8.10 (£5.17) per share in cash with an extra $0.40 (£0.26) per share in Mitel common stock, significantly undervalued the company and its "strong prospects" for continued growth and value creation. Shoretel said its implementation of a long-term strategic plan is still ongoing and the new offer would not be in the best interests of its stockholders.
As with the previous bid, the board unanimously rejected Mitel's proposal, following "careful consideration" with the assistance of its independent financial and legal advisors.
"After careful deliberation, ShoreTel's board of directors has determined that the incremental value represented by Mitel's revised, unsolicited proposal is highly inadequate, and that this revised proposal is again an opportunistic attempt to acquire ShoreTel," said Chuck Kissner, chairman of ShoreTel's board. "We continue to believe that Mitel's highly inadequate proposal does not reflect the value inherent in ShoreTel's business, nor does it reflect ShoreTel's compelling prospects for long-term growth and value creation."
Don Joos, president and CEO of ShoreTel, added, "ShoreTel's focus on successfully executing its strategy has been driving improved financial performance and value creation, as evidenced by our recent financial results including our fiscal first quarter 2015 earnings report. We are confident that executing our strategic plan is the best path forward and will deliver substantially more value to ShoreTel stockholders than Mitel's significantly inadequate proposal."
During the negotiations, Blackstone Advisory Partners is serving as financial advisor and Fenwick & West is serving as legal counsel to ShoreTel.
Read also :