Logitech aims to bring portable video conferencing to everyone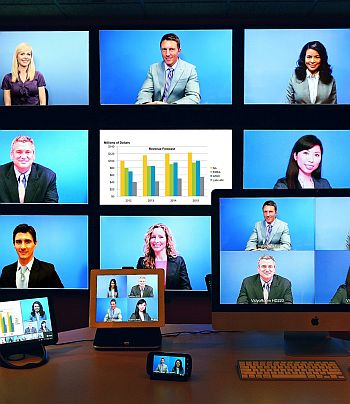 The ConferenceCam Connect supports all the major video conferencing software formats and can be used with mobile gadgets
Logitech has unveiled its ConferenceCam Connect, a portable all-in-one video conferencing solution for small- and medium-sized rooms.
It works with any computing device with a USB connection and supports the Cisco Jabber and WebEx, Citrix GoToMeeting, Blue Jeans, Google Hangouts, Lifesize, Microsoft Lync and Skype, Vidyo, and Zoom video conferencing software.
The cost of an office chair
"For about the cost of an office chair, businesses of all sizes can now afford to quickly connect with customers, vendors and remote employees anytime and anywhere with the Logitech ConferenceCam Connect," said Jason Moss, general manager of the collaboration group at Logitech.
Bill Haskins, an analyst at Wainhouse Research, said: "We believe there is simply no workspace that should not have a video conferencing capability, and the ConferenceCam allows you to connect to meetings no matter where you are."
He said: "Teams are collaborating more frequently than ever before, sharing content and using video conferencing to connect with both local and remote team members. At the same time, today's enterprise is undergoing a massive, and sometimes complex transformation.
"Our research points to a rise in open seating environments, shrinking conference rooms, more telecommuters, and the use of a growing number of collaborative applications. The Logitech ConferenceCam Connect meets these challenges head-on by providing an intriguing combination of flexibility and portability."
The ConferenceCam Connect has PC and Mac compatibility for video conferencing, and mobile connectivity for screen-mirror projection through Miracast. Windows and Android users can connect wirelessly to the ConferenceCam Connect to screen-mirror presentations, spreadsheets, videos or internet content from a mobile device to a TV screen through an HDMI connection.
The ConferenceCam automatically connects to the display, eliminating extra steps like TV input selection. The ConferenceCam Connect offers the ability to clearly see objects and everyone in the room via a 90-degree field of view with digital pan and tilt, mechanical tilt, 4x digital Full HD zoom, and a ZEISS glass lens with autofocus.
The speaker phone supports both mobile and USB audio calling with features such as Bluetooth wireless technology, near field communication and a USB port. With 360-degree sound, users can hear and be heard within a 12-foot diameter range, while the full duplex sound, acoustic echo and noise-cancelling technology delivers conversational realism.
Enabling the flexibility to work from anywhere, the ConferenceCam Connect runs on AC power or battery. The Logitech ConferenceCam Connect is expected to be available worldwide in March at a suggested price of £449.
Read also :