OpenText bangs the drum to get new cloud partners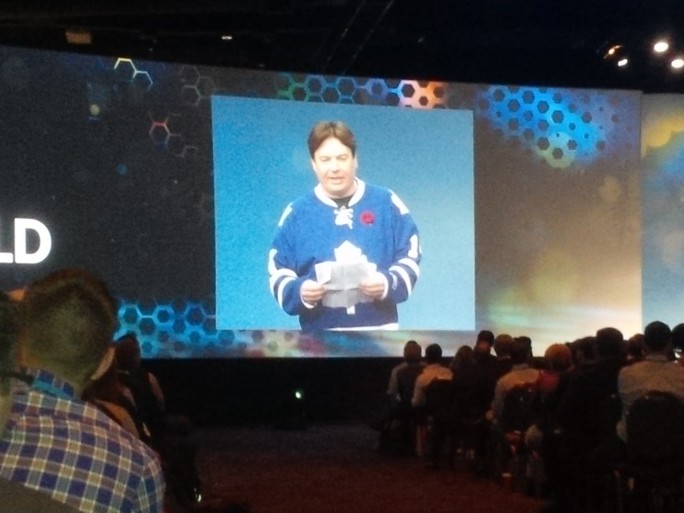 Top Canadian company says it's been too quiet for too long and wants new cloud and big data analytics resellers
There aren't many fledgling cloud service companies with a $4 billion expansion pot, 37 owned data centres and a business network that handles transactions worth trillions of dollars every year on behalf of its clients.
But that is what OpenText is and it is looking for system integrators, managed service providers and resellers to share the cloud service spoils about to be generated by its full adoption of the cloud for its enterprise information management (EIM) products.
Traditionally, the Waterloo, Canada company has been viewed as a top end document management company, but that was before it went into the cloud and became an analytics-as-a-service company and a data security company.
At its Enterprise World partner and user conference in Las Vegas this week, the likes of Nestle, Fox and Disney queued up at keynotes to demonstrate how OpenText was central to their businesses. When Disney says it needs OpenText to help look after its intellectual property you have to sit up and take note, after all, there's no one like that company that can protect and squeeze out every last business drop from its products.
This week, OpenText CEO Mark Barrenechea told delegates that it was time to "re-think enterprise content management". He claims his company's products are now as "easy to use as Microsoft Sharepoint across the enterprise", but with "better security and integration with CRM, ERP and business process management suites".
This is possible, he said, by cloud enabling the company's products and services and bundling them with full analytics capabilities to deal with both structured and unstructured data.
At the moment, OpenText has 64,000 customers who use its global business network to manage documents and process financial transactions, thanks to its early historical dash to electronic data interchange (EDI). But it currently only has a relatively low 800 customers who use its managed service business offering and only 500 software-as-a-service customers.
OpenText says this is set to change as it moves away from mainly perpetual on premise software licenses to no upfront cost deals via its cloud. It admits most of its existing customers aren't going to immediately just jump through its hoop to adopt this model, but says new customers – with the help of partners and resellers – will help to boost its customer base.
OpenText revamped its channel programme last month and it is now bashing the drum for other partners to roll up and help it to quickly expand. While Amazon Web Services and Microsoft have made much hay in the last week, over their eventual move to build UK-located data centres for the first time to better service their customers, OpenText already owns data centres in the UK and in almost every other major market around the world.
When it comes to reducing potential network latency for cloud services, such a data centre build out is essential for MSPs, SIs and resellers. Not to mention allaying concerns about putting data offshore. OpenText also points out that it has spent $2 billion over the last three years on acquisitions and R&D to expand its capabilities, and says it is now planning to spend another $4 billion on R&D and acquisitions over the "next few years".
If this was a US company you may have heard more about its existing and planned growth, but perhaps its Canadian ownership – albeit with an American CEO – has seen its marketing pitched at a slightly more reserved level. And maybe its shared town location with BlackBerry has led to the firm being a bit more careful over the tub thumping considering BlackBerry's market demise.
At the conference, comedian, actor and film director Mike Myers, who is also a professional Canadian, took the proverbial out of his own country for its laid back attitude. While telling delegates he was a patriot and proud of the "civility" and "modesty" that he says his country is known for, he called for Canadians to be more like their US neighbours.
He said: "When NASA has a failed rocket launch on the pad it's described as a 'failed success', it's just something they have to go through to get where they want to be. And that's the attitude we should adopt in our country."
Mark Bridger, OpenText vice president of sales for the UK and the Nordics, told ChannelBiz: "We have a big story to tell but not enough people know about us. But with our cloud and new analytics offering we are ready to change that, up to now we've been too quiet."
@AntonySavvas
Read also :