Cloud hits global outsourcing contract values
EMEA sees a big slump in total deal value and a reduction in the number of contracts signed for the year
The global outsourcing industry delivered one of its best quarterly performances ever in the fourth quarter, capping a year that saw a record number of contracts, but there was a continuing trend towards lower contract values and shorter durations, partly as a result of wider cloud use.
That's according to data released by Information Services Group, the technology insights, market intelligence and advisory services company.
Data from the ISG Outsourcing Index, which measures commercial outsourcing contracts with annual contract value (ACV) of $5 million or more, show that fourth-quarter ACV rose 5 percent, to a combined total of $7 billion, the highest quarterly ACV in the last four years.
This result was fuelled by nine mega-relationships (contracts with annual value of $100 million or more) in the quarter, an anomaly that runs counter to the prevailing trend away from large deals and toward a higher number of smaller contracts.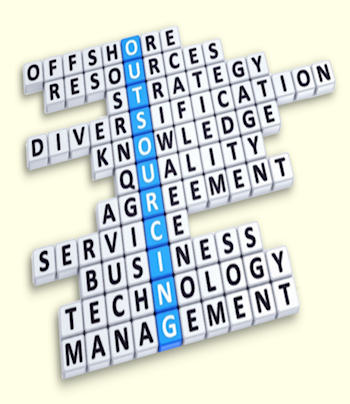 For the full year, volume reached a record 1,445 contracts, up 2 percent over 2014, even as 2015 ACV, at a total of $23.7 billion, declined 8 percent. Almost all of the ACV shortfall can be pegged to the information technology outsourcing (ITO) market, which declined in annual value by $2 billion or 12 percent from last year as more infrastructure moves to the more flexibly priced cloud environment.
"The data this quarter and this year confirm more enterprises are sourcing than ever before, and they're paying less for those services, which encourages them to participate in the sourcing market even more," said John Keppel, partner and president of ISG.
"They're buying flexibility with cost variability, utilizing smaller deals more than ever as they revamp their processes around cloud, digitalization and automation. Outsourcing continues to have a strong value proposition as we exit 2015 and enter 2016."
EMEA, the world's largest outsourcing market, posted a strong finish to the year, with ACV rising 17 percent in the fourth quarter, to $3.9 billion, fuelled by the signing of five mega-relationships. For the full year, however, the region could not overcome a sluggish first half, with ACV declining 8 percent, to $11.7 billion, and volume down 7 percent, to 601 contracts, in 2015.
All of the decline in ACV for the year was attributable to a falloff in ITO, as the number of large infrastructure awards dropped sharply and value was lower on smaller deals overall. BPO, meanwhile, grew by double digits, both in value and volume, led by industry-specific work in contact centres.
The region's two largest markets – the UK and DACH – went in opposite directions. The UK fell short of its strong 2014 showing, with full-year ACV sinking 19 percent to its lowest point since 2009, although contract count reached a new high.
DACH, meanwhile, saw its ACV surge 69 percent, aided by Siemens' large renewal with Atos, even as its contract count fell to its lowest level since 2007. France, a stellar performer in 2014, saw its ACV fall 70 percent in 2015.
ISG said it expects a "tepid start" to 2016, with ACV growth only in the low single digits over the first two quarters compared with the weak first half of 2015. "We expect activity to pick up across all regions in the second half," Keppel said.
"Now that clients have realised the flexibility and value inherent in shorter, smaller contracts, they won't give that up. We expect the trend toward lower contract values and shorter-term commitments to continue."
@AntonySavvas
Read also :