Glass ceiling for women fails to break for top execs at combined Dell/EMC

Only one woman makes the grade and she's no longer the top marketing executive after losing out to EMC rival
With the spotlight continuing to shine on the glass ceiling that is the IT industry, Michael Dell has announced the senior executive line-up of the merged Dell/EMC, and only one of them is a woman – shunted to "customer service" from currently being the top marketing honcho at Dell.
The acquisition has recently been given approval by both the US and European competition authorities.
In an email to staff, outgoing EMC boss Joe Tucci told them: "Our integration planning teams are making significant progress across all work streams. We are starting to make some decisions on what the future combined business will look like, and it is exciting to see the new company start to come together.
"Michael Dell is meeting with his extended leadership team at Dell, where he is announcing the planned executive leadership team for the combined Dell/EMC company. These leadership appointments will become effective immediately after the close of the transaction, which we expect will occur later this year."
He claimed the deal is "on schedule under the original timetable and terms".
Tucci then went on to name top executives to lead the combined company, in alphabetical order:
• Jeremy Burton, chief marketing officer, responsible for brand, events, marketing analytics, digital and communications
• Jeff Clarke, vice chairman and president, operations and client solutions, responsible for global supply chain and end user computing organisations
• Howard Elias and Rory Read, co-chief integration officers, for the Dell|EMC integration.
• David Goulden, president, Enterprise Systems Group, responsible for the global infrastructure organisation, including servers, storage, networking, converged infrastructure and solutions. Bill Scannell, president, enterprise sales, will report to Goulden and lead the global go-to-market organisation serving enterprise customers.
The enterprise business that Goulden will lead will "leverage top talent we have across EMC", said Tucci. Also part of the Enterprise Systems Group will be: Rodney Rogers, CEO, Virtustream; Amit Yoran, president, RSA; and Rohit Ghai, president, Enterprise Content Division.
• Marius Haas, president and chief commercial officer, responsible for global go-to-market organisation serving commercial customers.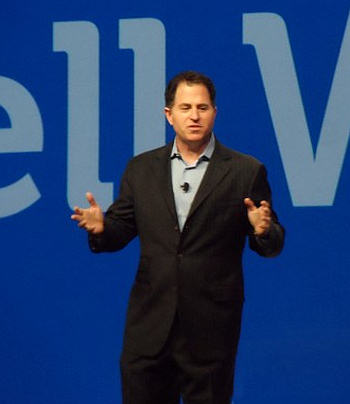 • Steve Price, chief human resources officer.
• Karen Quintos, chief customer officer, responsible for "leading revenue and margin enhancing programmes", ensuring a consistent customer experience across multiple channels and driving strategies to strengthen and build profitable customer relationships. She will also lead "Corporate Citizenship", including social responsibility, entrepreneurship and diversity.
Quintos, currently Dell's CMO, has therefore lost out to Jeremy Burton, in becoming the chief marketing officer of the combined company.
• Rich Rothberg, general counsel.
• John Swainson, president, Dell Software, will continue in his current capacity.
• Tom Sweet, chief financial officer.
• Suresh Vaswani, president, Dell Services, will continue in his current capacity.
Tucci said Bill Scannell, Marius Haas and Jeff Clarke will lead the new company's three global go-to-market organisations: Enterprise, Commercial and Consumer & Small Business. "They will be working together over the next few months to determine which accounts and people align to each go-to-market organisation", said Tucci.
"This segmentation approach preserves the best of the EMC and Dell sales motions and will drive clear accountability for results, enable more decision-making closer to customers, and allow faster feedback between customers, sales and product teams," he added.
Michael Dell will also establish an executive group, which will include the presidents of business units and go-to-market organisations, plus: Pat Gelsinger, CEO, VMware; Rob Mee, CEO, Pivotal; Rodney Rogers, CEO, Virtustream; and Mike Cote, president and CEO, SecureWorks.
This group will "collaborate on innovative and differentiated solutions" and "optimise operations to increase the speed and agility with which we serve our customers", Tucci said.
@AntonySavvas
Read also :