Amazon begins drone delivery testing in Cambridge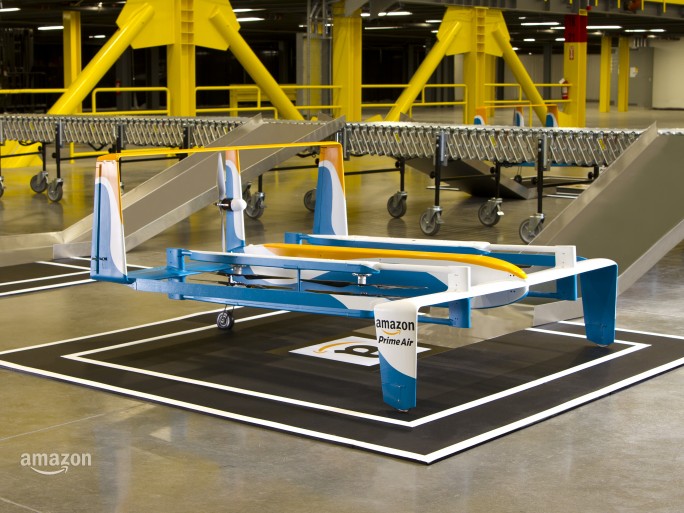 But there is local opposition to the flights over safety fears as Amazon ploughs on
Amazon has started testing its Prime Air delivery drones just south of Cambridge, with pilots being notified as part of safety efforts.
The city of Cambridge is home to Amazon's R&D operations, where a research lab is at the forefront of testing the company's Prime Air delivery drone service.
Amazon acquired Cambridge-based startup Evi Technologies in 2012 to take advantage of the scientific talent pool at the company, and announced it would begin testing drones in 2014.
This week, a NOTAM (Notice to Airmen) was established just south east of Cambridge, alerting air traffic that unmanned aerial vehicle flights will be taking place until 5 October.
Worsted Lodge
The site being used is just east of a village called Worsted Lodge, close to Sawston, in Cambridgeshire. The NOTAM, which informs pilots of aerial obstructions and other hazards, details how the drones will fly up to 750 feet and within a radius of two nautical miles. The NOTAM is in place from sunrise to sunset every day.
Amazon is currently hiring at the Cambridge facility, looking for drone specialists and engineers for the project. Earlier this week, Amazon announced that it also plans to create 1,000 permanent jobs across the UK, located in London, Cambridge, Manchester and Edinburgh.
Taking a "hybrid approach", Amazon's delivery drones are a cross between a drone and a plane in appearance. The unmanned vehicles will reach speeds of over 50mph, with a range of 15 miles. Amazon said it wants its drones to be able to make deliveries in less than 30 minutes.
But safety fears have been raised by residents in Cambridgeshire regarding the drone flights. Terry Holloway, the managing director of Cambridge Aero Club, told Cambridge News that he opposed the flights.
"From a legislative point of view the Civil Aviation Authority rules as they currently exist means it's just totally unfeasible to even consider doing this," said Holloway.
Read also :