Samsung launches Windows 8 tablets, smartphones, all-in-ones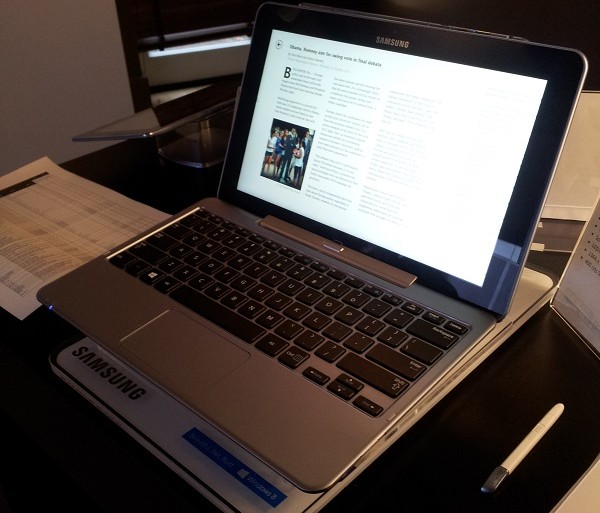 Channel partners get a look at Samsung's business-focused Ativ range
Samsung is looking to expand its presence in the B2B market, attempting to disrupt Apple's tablet dominance with the launch of its Windows 8 based products in its Ativ range.
At a launch ahead of Microsoft's own introduction of its new operating system on Friday, Samsung gave journalists and channel partners a preview of devices that will be released when Windows 8 reaches the market.
The Ativ range includes a smartphone, Intel and ARM-based detachable tablets, as well as a number of all-in-one PCs.   Samsung says that the devices, which all feature a uniform design style across the range of products, will be strongly targeted towards businesses looking to deal with the growing trends in mobility and bring your own device.
Samsung is hoping that it can dislodge Apple's iPad and iPhone from business use, just as it has attempted in the consumer space, with Windows 8 creating a more viable proposition for the enterprise.
This is no small task.  Apple has enjoyed a strong presence in the growing market for business use tablets.  According to channel analyst house Context, tablet sales to businesses are growing quickly, and faster than consumer sales.  The majority of these – at 72 percent in the second quarter – are iPads.
According to Samsung UK vice president for IT, Graham Long, the company is now fully prepared to make headway into the business tablet market with its Windows 8 based detachables.
He told ChannelBiz UK that alongside better operation with businesses existing IT infrastructure, one of the main selling points over Apple's devices is the ability to create information with access to Office tools, for example.
"The majority of iPads out there are used as consumption devices, you look at the people who use them on the train they watch a movie, they look at the web," Long said. "It is a consumption device."
"What we are talking about here is we are providing people with an i5 PC, that is not just a consumption device, that is a proper computer," he said.
He added: "Windows 8 is the answer for the IT managers that are thinking what on earth am I going to do with the iPhones and iPads and what have you, that are not going to fit onto our Windows network. The big advantage is that Windows 8 can be deployed across devices that are nice enough you can use them on a sofa or train, as well as being integrated on a network."
There has been apprehension in the channel about the upcoming release of Windows 8.  However, Long says that the 65 partners which made the trip to the outskirts of London shows just how interested channel partners are in the new operating system.
"That speaks volumes, to get all of the partners that we targeted to come along to this venue on a Monday morning in the fog and only one didn't show bears testimony to the fact that people really want to know what is going on," he said.
He added that the intrigue around the new operating system is giving resellers something to shout about.
"As a reseller you need something to call out – you have to have something that is new to talk about with your customers," he said.  "Windows 8 and these Samsung devices give people a reason to go out and have a conversation with their customers."
The release of the devices, available from the launch of Windows 8 this Friday, will see Samsung attempt to increase its presence in the B2B market.
The Korean firm has so far enjoyed strong performance with its consumer products, with Galaxy phones selling by the shedload, but has not made as much headway in the B2B market.
However, Samsung is clearly hoping that this will change, and by targeting increased B2B sales, it will be more reliant on the channel to help it meet its targets.
Attempts to push into the market will involve engaging with its distribution channel partners such as Westcoast, while many deals will go through its 12 big reseller partners such as Computacenter, SCC, Misco, and Kelway.
Though the its B2B is 100 percent indirect, Long tells us that this will involve Samsung's own sales team setting up most of the deals.
The reason behind this is that many of the larger organisations, for example, British Airways, will already be serviced by a channel partner, which can then be handed the contract to supply the organisation once the deal has been struck by Samsung's own staff.
Long explained that for any new business which comes up that is not already covered by one of the big resellers, Samsung will allocate a sale to whoever it considers to be a best fit for that particularly customer.
Philip Oldham, head of UK marketing, Samsung Electronics, added that Samsung will be investing significantly in bagging contracts for its channel partners in the seven key verticals that it has now targeted – government, health, finance, hospitality, education, manufacturing and retail.
"We are looking to invest a lot of money in demand generation for each of these markets, with different messages for each based on the core proposition of mobility," Oldham said.
"In the past we have had end user sales people who are centered around the organisation.  What is different is as of this  year we have created one end user sales team to target those key verticals," he said.