Boston unveils Venom 2305-7T workstation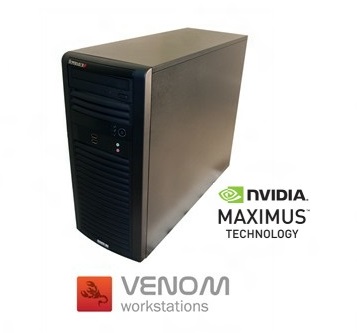 Nvidia based workstation targeted at mission critical applications
Supermicro distributor Boston  has unveiled its latest Venom workstation, using Nvidia Maximus technology for mission-critical applications.
The Boston Venom 2305-7T combines Intel's eight-core Xeon E5-2600 processors alongside the Nvidia Quadro GPU, and Tesla K20 GPU companion processor, inside a Supermicro chassis.
Bostons, which has been partnering with Supermicro as a distributor for 19 years, says that by combining the two GPUs will help in improving simulation turnaround, accelerate workflow and eliminate productivity bottlenecks.
Nvidia Maximus, which uses the graphics chip designer's Kepler architecture, is able to provide new features such as SMX, Dynamic Parallelism, and Hyper‐Q. The Venom 2305-7T will be targeted towards mission critical applications in a number of fields, such as manufacturing, visual effects, as well as geological applications including oil exploration.
"Boston is honoured to be selected as one of only a few major workstation manufacturers to design solutions based on NVIDIA Maximus technology," Manoj Nayee, Managing Director of Boston.
"With the Boston 2305-7T, Boston is offering a high performance workstation like no other. New features such as SMX and Hyper-Q can now deliver more processing performance while also reducing CPU idle time to dramatically advance programmability."
Read also :