Windows 8 PC sales performing well despite inventory build up concerns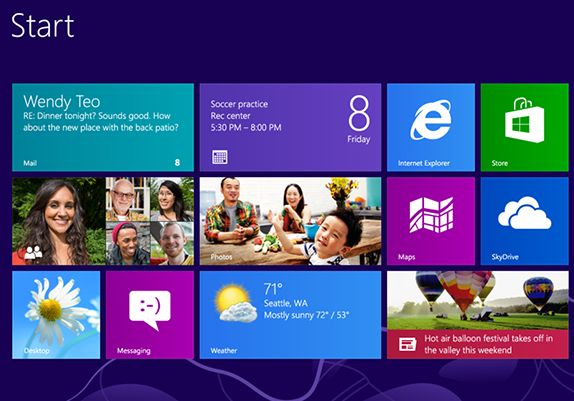 Outlook remains uncertain as Windows boss makes exit from Microsoft
UK sales of Windows 8 based have surpassed expectations say analysts, with a strong early performance despite fears over spending and a dampening of demand due to excess Windows 7 stock.
The latest research from Context shows that PC sales through distributors increased swiftly as Windows 8 based devices were debuted. In the week before the launch of Windows 8 last month, 23.5 percent of all PCs supplied by top European distributors used Microsoft's new operating system.
This is higher than the pre-launch sales of Windows 7 which reached 17.1 percent over the same period in October 2009.
However during the actual launch week, Windows 8 PCs accounted for 41.3 percent of all PCs sold by distributors, lower than the launch week for Windows 7, which accounted for 43.8 percent of sales.  Figures did not show the number of units sold however.
The release of Windows 8 has sparked debate over the long term position of the platform, which is facing stern competition from operating systems typically found on mobile PCs.  Since the release of Windows 8 the platform has received mixed reviews over its use in the workplace, though there has been praise for its tablet performance, with good initial feedback of Microsoft's own Surface device.
As well as a shift to new forms of computing, Microsoft has had to deal with a tough economic environment, with slow demand for PCs causing a build-up of stock.
However Context CEO Jeremy Davies says that Windows 8 has performed in spite of these factors, with PC sales increasing over the launch week by almost 8 percent.
"There were two main concerns surrounding a successful Windows 8 launch," Davies said. "There were fears that the decline in PC sales had resulted in excess inventory which could have damped sales of newer machines considerably, but it seems inventory in the main has been managed and has not unduly affected the launch."
He added: "Secondly, despite the uncertain economy, PC sales through IT distribution in the two weeks prior to launch and including the launch week itself actually rose 7.8 percent compared to the same period one year ago."
Within the sales of Windows 8, ARM-based RT devices made up 2.5 percent of sales in the opening week, which, while a small percentage, could point to increased sales of the tablets Davies said.
"If this growth continues, it will be a real opportunity for Microsoft to carve out its position in the booming Tablet market in the run-up to the holiday season."
The future of Windows 8 took a blow today however, with the announcement that the head of Microsoft's Windows 8 division, Steven Sinofsky, will be leaving the company.
I am grateful for the many years of work that Steven has contributed to the company," CEO Steve Ballmer said. "The products and services we have delivered to the market in the past few months mark the launch of a new era at Microsoft," said Ballmer, also pointing to the new Office, Windows Phone 8, Windows Server 2012 releases.
"To continue this success it is imperative that we continue to drive alignment across all Microsoft teams, and have more integrated and rapid development cycles for our offerings."
Julie Larson-Green will be promoted to lead all Windows software and hardware engineering, while Tami Reller will retain her roles as chief financial officer and chief marketing officer, as well as assuming responsibility for the Windows business. Both executives will report directly to Microsoft CEO Steve Ballmer, replacing Sinofsky immediately.