Birst Partners Acuma To Drive UK Expansion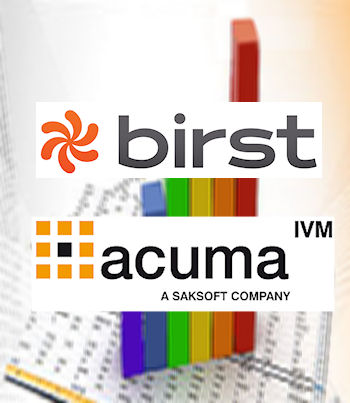 Birst says the channel will be a vital partner in the UK market as it signs agreement with Acuma Solutions
The channel is a vital element for US company Birst as its seeks to expand into the UK market with its business analytics product.
To this end, the San Franciscan company has signed its first UK partnership with Manchester's Acuma Solutions, a specialist information management systems integrator owned by India-based Saksoft Group.
The partnership will see the two companies offering cloud-based business intelligence (BI) services to UK organisations.
Vital channel
Speaking to ChannelBiz, Jason Bissell (pictured), vice president for international markets at Birst, said he expects the channel to play a vital part in his company's efforts to expand its presence in the UK market.
Birst made its name by offering an analytics product that can be deployed either in the cloud or on premise via an appliance, at a fraction of the time and cost of the traditional on-premises BI solution.
"We are the number one analytics provider in the cloud and we have a great operation in the US with a 1,000 plus customers," he told ChannelBiz. "At Birst we are all about trivialising infrastructure, making it simple to do analytics. That has been our model in the US, but this required a lot of infrastructure as we have to host and manage it."
"In the UK our ambition is to leverage our partners to help in the servicing of our customers, and trivialising their infrastructure. This means we have to build out our hosting capacity in the UK, and hence our deal with Birst. We would foolish to come in to the UK market and say we could do by ourselves. We need a UK partner," he said.
Bissell explained that one of the targets for the company is the public sector because the financial advantages provided by its cloud platform resonate with many cost-conscious governments across the world. "Governments and, indeed, companies are facing two angles at the moment: the need to cut costs and the need for innovation. The cloud sits in the middle of that," said Bissell.
"Analytics has been around for long time, but we along with Acuma can do it quicker and faster and give you innovation, even though you are operating under cost restraints," he added. "Acuma has been around for a long time and their customer base is the biggest pure BI customer-base in the UK. It also has good consulting experience and its staff is the best at dealing with analytics solutions. Partnering with them gives us stability and the opportunity to scale our operation."
Cloud BI
"As one of the UK's leading independent information management companies, we are constantly looking at new solutions that can meet the requirements of our customers and prospects," said Nick Sullivan, sales director at Acuma. " Birst's solutions offer fast and effective ways to deliver Business Intelligence and data analytics that can deliver value as well as ease of use. The ability to host cloud BI services either on a customer's premise or on the Birst cloud was also very attractive to us, as it offers greater flexibility and responsiveness to our customers' demands."
As Birst points out, the concept of business intelligence and analytics has been around for many years now but has previously been the preserve of large enterprises with deep wallets. With the advent of the cloud and cheaper analytical and BI solutions, many companies are now adopting these technologies to help them gain value from the data deluge.