Intel Haswell Core Chip And New Device Designs Set To Show In June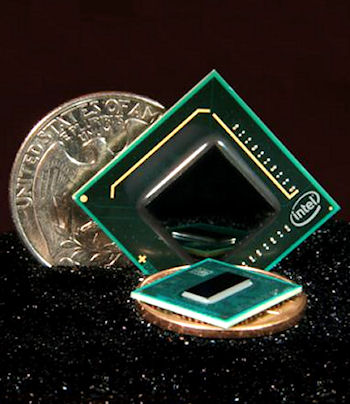 Intel claims its fourth generation Core processors will bring growth back to the company
Intel has revealed that its Core "Haswell" processors will make their public debut at the Comdex 2013 show in Taiwan in June.
According to a short blog post 26 April on the Intel Website, the next-generation chips – which company officials have said will feature significantly improved energy efficiency and greater graphics capabilities than current Intel chips – will be unveiled 3 June, when the show kicks off.
Highly Anticipated
"In approximately 3,337,200,000,000,000 nanoseconds [around 38 days], Intel will reveal all there is to know about the highly anticipated fourth-generation Intel Core processor family," the company said in the blog post. "The new family of processors will surpass old technology expectations and usher in a host of striking new designs with incredible performance and extraordinarily long battery life."
Intel has been driving down the power consumption as it looks to expand its reach beyond traditional PCs and into devices like tablets, hybrids and convertibles, systems that are rapidly growing in popularity. Company officials have boasted that the 22-nanometer Haswell systems-on-a-chip (SoCs) will offer the greatest leap in power efficiency from one generation to another.
During a 16 April conference call with analysts and journalists to talk about the company's first-quarter financial numbers, outgoing CEO Paul Otellini and chief financial officer Stacy Smith said that with Haswell, systems makers and end users will see improvements in overall performance (by as much as 10 percent), graphics capabilities (by up to 50 percent) and power efficiency. OEMs will embrace the quad-core SoCs as they develop a range of new form factors, which will help boost revenue for Intel's PC Client Group, which saw sales fall by six percent in the first quarter, to $8 billion (£5bn), according to Smith.
"We believe the combination of an improving macroeconomic environment, Haswell coming to the market, ultramobile form factors like Ultrabooks, convertibles and tablets, and touch-enabled devices leads to a return to growth in the second half of the year," he said.
This first appeared on TechWeekEurope UK. Read the whole story here.
Read also :