Intel Promises To Give Resellers The Edge On Competitor Products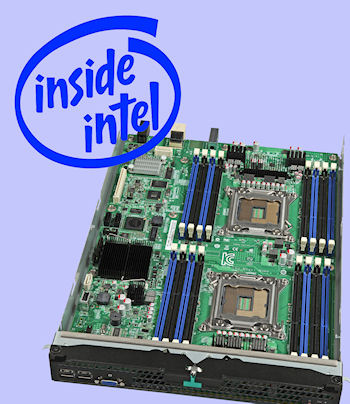 A white box server from Intel could have your name on it and move you up in your customer's estimation
Intel's Enterprise Platforms and Services Division (EPSD) is the company's interface with its distributors and resellers that want to supply custom server systems to their customers.
The ability to build white box servers which precisely fit a customer's requirements is a compelling, and potentially deal-winning, proposition. A value added retailer, or VAR, can not only impress its channel with machines that can compete with the likes of Dell and HP, but also sell ranges of self-branded servers that act as a permanent reminder of where to go every time data centre expansion is called for.
Xeon inside
With the latest Xeon processors and associated technology from Intel readily at hand, EPSD is ideally and uniquely placed to be a major partner in the highly competitive and growing white box server market.
Done well, the servers will bring greater satisfaction to the end-customer by supplying what they need at a price they are happy to pay, and the branding rewards the vendor by building a closer relationship with their clients.
To help ensure a fruitful outcome, EPSD can also provide training and help to support the resellers' efforts to match their customers' requirements as data centres proliferate and individual requirements become more specific.
David Brown (pictured), Intel's EPSD marketing director, said, "A lot of our customers have different capabilities in the skills they have. Some just need a motherboard while others want an integrated system, short of memory and hard drives, for which they can provide the final integration to take it to market. What we do in EPSD is to make sure we've got the components ready as required, depending on the level of integration our customers are capable of performing."
EPSD is part of the Data Center and Connected Systems Group at Intel, responsible for all silicon products except for handhelds and laptops. The company recently confirmed that it is ending desktop systems' motherboard production but that does not affect its server board manufacturing. This makes sense when the move is away from traditional systems to virtualised and mobile "desktops" while the server market is consequently thriving, despite a depressed economy.
Brown has identified specific areas of focus. He sees small to medium enterprise requirements, enterprise and cloud data centres, and high-performance computing as key market segments.
"The industry remains hyper-segmented and it's growing at double-digit rates year on year – and we want to be a big part of that server growth. Our market segment is relatively high and we want to continue to grow in the market as much as possible," he said.
In any given quarter, EPSD serves 10,000-15,000 channel customers on a worldwide basis but that is no reason to rest on its laurels. The division is always seeking to innovate how it sells to the channel. Brown is confident in the abilities of its partner channel and Intel plays its part in ensuring their success with training courses.
White channel
Distribution partners are important in helping to support the sales chain. New partners are converted into server specialists through a qualification supervised by training firm CompTIA. This ensures that the distributors can support their own smaller, often less-savvy, channel partners to satisfy customer demands.
For example, Hammer, one of EPSD's key distributors in the UK, has the ability to build a server within its integration facility on behalf of one of its resellers. It then offers its own on-site warranty to take the hassle out of choosing a white box server solution – solving a common problem in the marketplace where a customer is left to support themselves after the sale reaches completion.
"Our clients are pretty savvy at selling," Brown affirmed. "So we can rely on them and their customers to set up their own contracts. We also pass on leads to them to match the right customers with the right resellers – and they do appreciate that. Beyond this, we stay in close contact and we also get engaged with our channel and even make a sales call with them to back them up with Intel's bigger brand presence."
This kind of support often concerns channel partners who have been victims in the past to predatory suppliers. Brown says this is definitely not the case with Intel EPSD.
"We've been doing this for 20 years and year after year we do a survey to get a real understanding of why people buy through EPSD," Brown revealed. "And the biggest reason, to be honest with you, is the Intel brand and what comes with it: quality, ingenuity and commitment. These are the three pillars upon which Intel's reputation is built.
"The ingenuity stems from working closely with our silicon brethren who are building the CPUs and reference designs so we have first-hand knowledge of the capabilities of the platform and how to build server products around that. Quality, in that we've continued to be a leader in delivering market leading, reliable products.
"More importantly, when something does go wrong, it's the nature of our response and how we react that ensures that quality is topmost, as well. A lot of times our customers get worried about ODMs [original design manufacturers] who go around and start selling direct to their customers. As far as Intel resellers are concerned their customers are their customers – period," he explained.
Future openings
Intel is an active partner in, and contributor to, the Open Compute Project (OCP) which aims to bring down the cost and improve the efficiency of data centre architectures by producing standardised blueprints.
"The OCP is an important facet in the marketplace for those who want to sell into cloud data centres," Brown said. "The aim of OCP is to design a standard format motherboard that is optimised for cloud data centres and, as such, we have brought products to the marketplace around certain designs. You get the high levels of scale on that design and you get price points that highly attractive to customers looking to fill up their data centres."
He added that he believes this will become a very important focus area for EPSD and will ensure that there is an OCP-compliant product line available as it moves forward.
On the distant horizon, Intel has predicted that lightning fast photonics will have a profound impact on data centres. Rather than housing all processors in individual rack-mounted servers, they will be grouped together in a single location. This will not happen overnight but EPSD will ensure that its channel is kept up to speed to capitalise on this, and other new technologies, as they mature.