Euro Reseller Joins Microsoft Windows 8 Schools Initiative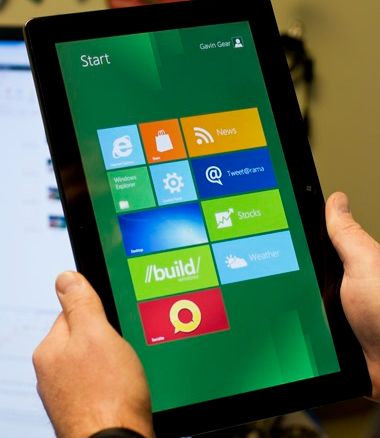 Doing it for the kids and it clears the warehouse out a bit as well
Education technology reseller European Electonique has won a deal to become a partner in Microsoft's Shape the Future programme.
Microsoft's educational programme is designed to get devices running its Windows 8 operating system into the hands of schoolchildren. European Electronique is the first partner in the UK to offer devices to all schools in England and Wales.
Top brands
The Shape the Future Programme gives European Electronique access to a range of top brand devices designed specifically for education at substantially discounted prices, from Microsoft partners including Toshiba, HP and Lenovo.
Each device comes with Windows 8 Pro or Windows 7 Pro and Microsoft Office Pro 2010 or Office 2013 Pro, along with a host of other software titles, licenced for use at home or school. With no need to purchase additional student licences for each device, the project aims to make a 1:1 device programme more cost effective and accessible for schools.
In addition, the scheme provides "extra-value" funding for schools to access professional development, training opportunities and resources. Microsoft said that it is also designed to help schools and teachers ensure best-practice use of their investments.
For every device sold under the European Electronique Shape the Future programme, Microsoft will contribute funds to develop a training and development programme. Sessions available to schools could include mastering Windows 8, understanding the benefits of cloud computing in education, and developing a school IT strategy aligned with education goals.
Steve Beswick, UK education director at Microsoft, said he was excited to work with the reseller on the programme as it would enable the company to help prepare students "for the 21st Century in schools throughout England and Wales".
"Shape the Future is designed to provide better one-to-one computing experiences for young people and aims to improve their confidence and ultimately their employability. At a time of high youth unemployment, we think it is more important than ever that we invest in our young people," he said.
Yolanta Gill, chief executive of European Electronique, said, "Microsoft's innovative Shape the Future Programme is an initiative that European Electronique is proud to be a part of. We are thrilled to be able to work closely with schools, free schools and academies throughout the UK to not only help provide valuable access to mobile devices, but teach and develop a true understanding of how 1:1 learning can help transform the education process."
Read also :