Reviveaphone Launches Solution For Moisture-Damaged Smartphones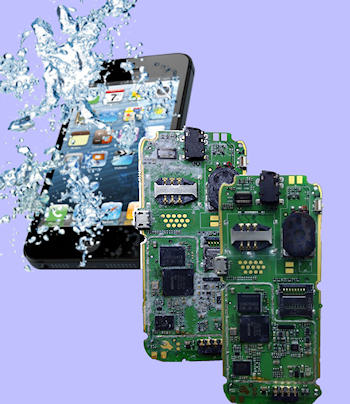 Dragons' Den startup offers to raise mobile devices from a watery grave
Next to dropping a mobile phone, one of the most common  causes of failure is getting water in it. Whether it is dropped in the toilet or bath or simply forgotten about when the owner goes swimming, the potential damage can be terminal for the phone.
This is not necessarily the disaster it appears to be and new UK company Reviveaphone is literally offering a solution for the problem.
Dragon's breath
Reviveaphone is the brainchild of 20-year old Oliver Murphy who started to develop the product when he was in school. He founded a casual eBay business buying damaged phones he then repaired and resold them. During this time he realised he could market the key to his success and applied to enter BBC TV's Dragons' Den competition. Investor Kelly Hoppen was impressed and offered him the financial backing he needed.
"I'm made-up that Kelly has invested in me," Murphy said. "I know she's a very creative person and has worked with other young entrepreneurs through the Prince's Trust so I was really hoping she'd see the potential returns for a product like Reviveaphone."
Kroll Ontrack, which offers various data recovery, management and forensics services, reported that, in 2012, its mobile phone section found that moisture damage caused 23 percent of cases it handled. Consequently, Murphy was receiving 200 customers a day following the launch of Reviveaphone last summer.
The product comprises a sealable pouch which contains a solution thatdisolvess corrosive mineral deposits from the damaged phone, and a tray to leave the device in to dry out after the process.
A soaked phone may continue to work afterwards and many people have simply left them to dry out. Although this seems to work, Murphy said, the phone can fail in the weeks that follow because mineral deposits have corroded components or the motherboard itself.
He advises turning the phone off as soon as possible after an accident and then applying the Reviveaphone treatment as soon as possible.
As well as repairing mobiles, the product can fix other electronic devices, Murphy claimed, including cameras, MP3 players and mini tablets. In fact, he actually discovered the process during a ski season when he fixed an oven and went on to repair a few phones that had been damaged by being dropped in the snow.
Reviveaphone could be useful to channel players offering support because it does not have a limited shelf life and can be stored as a standby for emergencies. Each pack costs £14.99.
Read also :