CeBIT 2014: UK And Germany To Work On 5G And Internet Of Things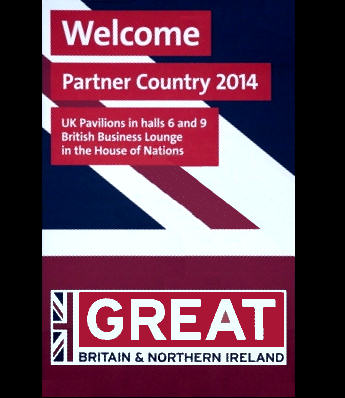 David Cameron joins Angela Merkel to celebrate UK tech at CeBIT and hail digital co-operation
Prime Minister David Cameron and German Chancellor Angela Merkel opened this year's CeBIT show in Hannover by talking about the need for the UK and Germany to co-operate on technological advances such as 5G, the Internet of Things, and European legislation if they are to remain competitive.
The UK is this year's partner country for CeBIT and Cameron said it was a "huge honour" to co-host the event, declaring that Germany was a country with a proud history and that he grew up hearing about "Vorsprung durch technik" – the famous Audi slogan.
Permanent revolution
"This is a world on fast forward," he said of recent technological advances. "Just a decade ago, Skype was a typo, a tweet came from a bird, and the cloud was something in the sky.
"This is a world of permanent technological revolution. In this world, countries like the UK and Germany will only succeed with a relentless stride for innovation."
Cameron said that technology formed a huge part of the UK's future economy and that he hoped to use CeBIT to promote the country's technology sector. He pointed out government investment in science, tax breaks for the video gaming industry, easier visa applications for startups, and the advent of Tech City.
He also said there had been a revolution in public sector IT since he assumed power in 2010, claiming that one percent of government spending was on IT and most of it went to large firms, whereas now it was geared towards smaller firms as well with the launch of the G-Cloud, which he called "one of the most innovative IT services in the world".
"It is our ambition to make the UK the most digital nation in the G8," he said, but added that it wanted to work with Germany to share strengths and expertise.
He announced a 5G partnership between the University of Surrey, the University of Dresden and Kings College London and voiced support for a European single telecoms market that abolished all roaming charges within the UK.
Much of his focus was on the Internet of Things, with the announcement of a new European grant fund, and on Ofcom's continued work to use the UK's spectrum resources more efficiently.
"I see the Internet of Things as a transformative development," he said, noting the potential for health monitors and smart meters which could help tackle climate change.
German enthusiasm
Merkel said she was "delighted" the UK was this year's partner country for CeBIT, noting that there had been a long history of cultural and scientific exchange since George I, of the House of Hannover, was made king of Great Britain in 1686. However, she also noted that 2014 marks the 100th anniversary of the outbreak of World War I and the 75th anniversary of World War II, declaring it a "miracle" that the two nations continue to support each other.
Stephan Weil, the Prime Minister of Lower Saxony, pointed out that the British army occupied Hannover following the end of WWII and initiated the first trade fair in the city shortly after, paving the way for CeBIT itself.
"The fact we are here today is because of extremely smart and wise British policy makers," he said.
Merkel also voiced her support for a single European telecoms market and said that the UK was one of Germany's most important trading partners and that the two countries should continue to work together.
Cameron echoed, "We are on the brink of a new industrial revolution and I want the UK and Germany to lead it."
Read also :