Egnyte Documents Its Rise With A Focus On The European Market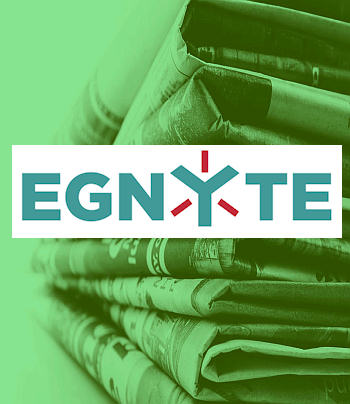 Cloud file storage sync and share company appoints GM to oversee European growth
Cloud-based file services vendor Egnyte has stepped up its growth strategy outside of its North American base with the opening of its European headquarters at Stockley Park near Heathrow. It has also appointed Ian McEwan as vice president and general manager for Europe.
The company's primary aim for its expansion will be to focus strongly on the enterprise channel and to back this up with a specialist team to support its endeavours. McEwan said that this latest move is in response to growing European demand for Egnyte's sync and share file services for business-critical information.
European perspective
Ian Whiting, president of field operations at Egnyte, said that Europe is the home of some of the company's largest and most technically-astute customers. The company's growth has already moved it to open a data centre in Amsterdam to address data sovereignty concerns of its European Union customers and the addition of its new headquarters near London further strengthens the acceptability as a business partner.
McEwan told ChannelBiz, "In the last 10 years I've been employed to either develop transition rules to turnaround companies, with companies such as Vignette when they were acquired by OpenText in 2009, but, predominantly, I have worked with venture capitalists for companies which were typically North American-based working to grow internationally, like Gigamon and now Egnyte. My experience touches the operational side setting up the logistics, but also sales, the channel and the go-to-market strategy. Egnyte brought me in to see how we can expand international business."
He added that the growth of the company with a channel perspective started back at the beginning of this year with Vineet Janes, CEO and co-founder of Egnyte, looking at how best it could be achieved. He brought in Jeff Nollette from EMC as a new VP for channels and alliances and has now added McEwan, who is working very closely with Nollette's team to develop the European business.
McEwan thinks that Egnyte can benefit the channel by offering end-to-end solutions that they can be easily deployed and the company is working with its independent software vendors, such as DocuSign, Google, NetApp and EMC, to fulfil this need. It is also working with existing partners such as cloud IT provider 848.
"848 is a good example of the kind of partner we are looking for, one that can bring our file sync and share technology for the enterprise, use it with collaborative tools and offer that to an end-user customer to bring them the benefits," he said. "You've got the ease-of-use, but it has to be packaged properly so the business user feels that it's flexible enough to give the controls required and the constraints needed from a robust security perspective to give an enterprise customer the amount of confidence to deploy it. The customer must be secure in his own mind about what is leaving the perimeter firewall."
Prior to joining Egnyte, McEwan was vice president of sales for networking traffic visibility firm Gigamon, where his team managed the company's European operations throughout a successful IPO, with a valuation that was set at more than $600 million. He previously served as a founding member of the Cloud Industry Forum, an industry body responsible for a code of practice for cloud services and he is a member of the UK Institute of Directors.
Read also :