NetApp and Hewlett-Packard Enterprise in flash Berlin clash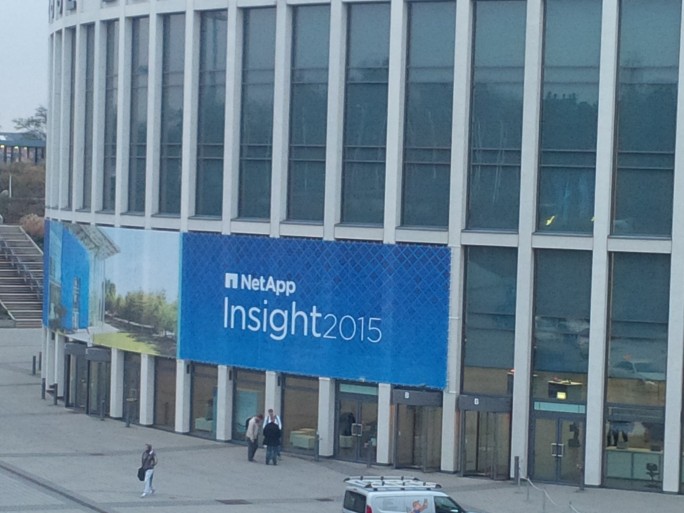 There's no escaping each other in the all flash storage wars as the gloves come off in Germany's capital
Around 4,000 NetApp partners, customers and staff are discussing all things data storage in Berlin this week at the annual NetApp Insight conference. But it is about to come under attack by Hewlett Packard Enterprise (HPE) as the war of words over who has the best all flash storage gathers pace.
Last year, this same event saw new kid on the flash storage block Pure target the conference using guerilla tactics by using a small number of ex-NetApp staff to target NetApp customers with handed out propaganda about the benefits of its all flash arrays.
This year, in a rather in your face intervention, HPE – the new company that has been spawned from the recent HP split – is staging an expensive Berlin event tonight (Tuesday) bang in the middle of NetApp Insight to try and entice the customers of its rival.
With the offer of drinks, a gig by grammy winner Woodkid and high level keynote speakers – including "father of the web" Sir Tim Berners-Lee and NASA astronaut Eileen Collins – HPE is putting its tanks on NetApp's lawn. Well, it's sending coaches to pick up delegates from NetApp Insight and their hotels anyway.
Berners-Lee isn't expected to use his industry gravitas to encourage attending data storage junkies to switch habits to newly souped-up HPE all flash storage solutions, but HPE's sneaky initiative is just not cricket according to NetApp executives, who, incidentally, have targeted HPE in their own way at the Insight conference [more on that in a minute].
Of HPE's surprise attack, one NetApp senior marketing executive said: "We're quite surprised at their move but at least it shows where they think the real challenge in the market is coming from. I can't see us doing something similar at one of their events."
The NetApp executive agreed with ChannelBiz's suggestion that perhaps the new HPE was now showing signs of an increased willingness to mix it in the market place with rivals, as it seeks to aggressively mark out new territory in front of potential sales targets.
Having said that, he also agreed that hard nosed NetApp storage partners weren't going to be automatically drawn to the wise words of Sir Tim Berners-Lee, when they weren't expected to include anything on getting extra points on their data storage sales. Although he did admit that NetApp sales and marketing teams were already primed to "protect" any customers straying over to the HPE event – simply with their own wise words one assumes.
As far as taking its gloves off to meet the HPE challenge head on, NetApp was slightly handicapped as the company is currently in its "closed period" ahead of its financial results being posted this Thursday. So comprehensive figures about who was winning in the market weren't forthcoming, although NetApp president Rob Salmon did tell the conference faithful that all flash sales were "up 140 percent year-on-year".
The majority of NetApp's sales of course still don't come from flash, but traditional storage arrays and software, so we'll have to wait until Thursday to see how the company is doing as a whole, but NetApp knows this is where the market is moving towards and what many potential customers want to hear about.
Indeed, Lee Caswell, NetApp vice president of product and solution marketing, outlined to journalists how he saw the flash marketplace and who the main combatants were. When it came to challenging NetApp on performance, he said EMC and IBM were the main threat. On cost, he said it was HPE and Dell, and on "ease of use" it was that new kid on the block Pure.
That rather revealing insight of course did come with the proviso he thought NetApp won hands down in all three areas. But it also came with the admission that HPE – matched by NetApp of course – had the best flash architecture that had "been built from the ground up". Which is probably why the pair are street fighting in Berlin.
@AntonySavvas