Amazon drone tests approved by UK government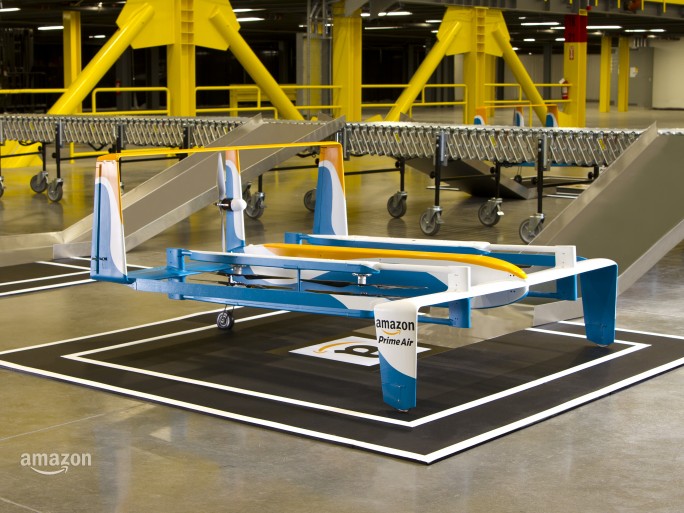 Cross-governmental team, supported by the UK's Civil Aviation Authority, will aid Amazon in its drone delivery research
Amazon has won the approval of the UK government and the Civil Aviation Authority (CAA) to carry out tests of its Prime Air delivery drones in Britain.
The company said it wants to trial new methods of testing its airborne delivery systems, and the test flights will explore how the company can make sure its drones fly safe and avoid outdoor obstacles.
The tests will have the full support of a cross-government team supported by the UK CAA.
ChannelBiz sister title TechWeekEurope identified one of Amazon's UK drone testing sites near Cambridge last month.
Prime Air research
"The UK is a leader in enabling drone innovation – we've been investing in Prime Air research and development here for quite some time," said Paul Misener, Amazon's vice president of policy and communications.
"This announcement strengthens our partnership with the UK and brings Amazon closer to our goal of using drones to safely deliver parcels in 30 minutes to customers in the UK and elsewhere around the world."
The tests will explore three key areas: beyond line of sight operations in rural and suburban areas, testing sensor performance to make sure the drones can identify and avoid obstacles, and flights where one person operates multiple highly-automated drones.
Amazon said the trials will show the UK government how drones can be used safely in the logistics industry, as well as identifying operating rules and safety regulations.
The e-commerce giant claims that by using drones in its delivery operations, it will improve customer experience and create new jobs in a growing industry.
"The UK is charting a path forward for drone technology that will benefit consumers, industry and society," said Misener.
The CAA also said the drone tests will help inform the development of future drone policies in the UK, and said it is "fully involved" with Amazon to explore the potential for safe use of drones in UK airspace.
"We want to enable the innovation that arises from the development of drone technology by safely integrating drones into the overall aviation system," said Tim Johnson, CAA policy director. "These tests by Amazon will help inform our policy and future approach."
Taking a "hybrid approach", Amazon's delivery drones are a cross between a more conventional style drone and a plane. The unmanned vehicles will reach speeds of over 50mph, with a range of 15 miles. Amazon said it wants its drones to be able to make deliveries in less than 30 minutes with parcels weighing up to five pounds.