Microsoft releases Windows 10 Anniversary update today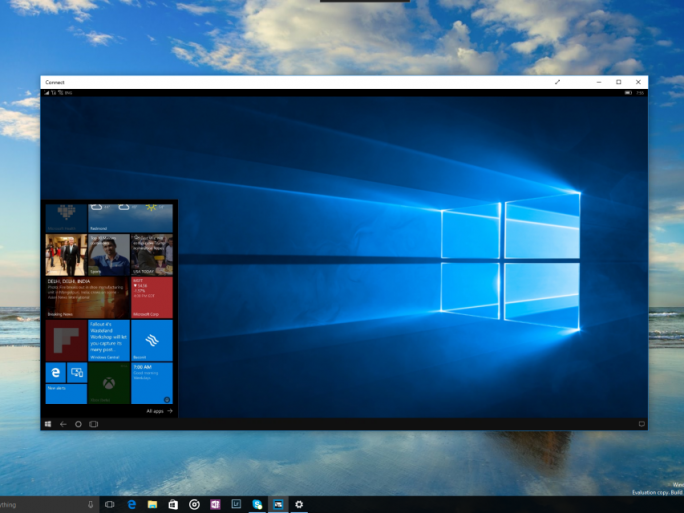 Update promises improved Task bar, Start Menu and Action Center, along with upgrades to the Cortana personal assistant
Microsoft will start rolling out its Windows 10 Anniversary Update today to more than 350 million users who already use Windows 10. The upgrade is the operating system's biggest since its launch last July, and will be dished out to users in phases over the next few days.
"We are committed to delivering continuous innovation to you: including features that bring Windows Ink and Cortana to the mainstream; a faster, more accessible and more power-efficient Microsoft Edge browser; advanced security features for consumers and enterprises; new gaming experiences and new tools for the modern classroom. Everyone running Windows 10 will get these new features for free," said Microsoft in a blog post.
Windows 10 is currently installed on more than 350 million devices, and Microsoft claims it is one of the most successful operating systems to date, with customers spending 135 billion hours on Windows 10 since launch.
So what exactly does the update have in store for users?
It will be free…to users who already have Windows 10
Just like Windows 10 itself, the first major upgrade is free to download to systems that have already installed the OS. However, if users did not upgrade to Windows 10 from Windows 7 or 8 before July 29 2016, buying Windows 10 starts at £99.99.
It's more secure
Windows Hello brings biometric security for applications and websites in the Microsoft Edge browser, while businesses will benefit from Windows Defender Advanced Threat Protection (WDATP) and Windows Information Protection which hopes to minimise the impact of accidental leaks.
Cortana has more features
Cortana is now usable from the lock screen, making it easier to use the feature hands-free. Yell out 'Hey Cortana' to give it instructions from the other side of the room if you like. Cortana can now store information such as frequent flyer numbers and Cross-device notifications will help Microsoft push its multi-device strategy. Reminders can also be made more visual with image attachments.
However there's a down side. Windows 10 has previously included the ability to turn off Cortana. The Anniversary Update disables that.
Windows Ink
Windows ink is a new handwriting feature for touchscreen devices that lets users write notes, draw sketches and add annotations to certain apps such as Maps, Office 365 and Microsoft Edge. Microsoft is pitching the feature at creative industries and education.
Task bar, Start Menu and Action Center
The Start Menu will make it easier to find apps. 'All apps' will be displayed by default and there will be menus for 'most used' and 'recently added'. In tablet mode, 'All apps' will be full screen and the taskbar can be hidden. Some icons will get new features. For example, clicking the clock will reveal events and volume will have more options.
Microsoft also plans on making it easier to customise the Action Center with icons, prioritised notifications and Android notifications.
Linux, Docker and Hyper-V
The ability to run Ubuntu software arrived in the Preview version of Windows 10 earlier this year and the Linux Bash shell command line should arrive with the anniversary update too. Docker friendly containers are also on board as is native support for Hyper-V containers.
It will come with an enhanced developer mode
An enhanced developer mode will be included in the update with new options available in Windows settings, helping coders take advantage of the container and Linux options. Instead of looking through various software components, the mode makes it simpler to find functionalities and file paths for Windows 10.
Windows 10 mobile
Microsoft might have blamed smartphones for it missing its much touted 'one billion' Windows 10 target but it still plans to show mobiles some love. Continuum, which promises users the same experience across multiple devices, will be updated and Bluetooth support will be improved. Recent preview builds have improved battery life for older devices and fixed an issue with loading PDF files in Microsoft Edge.