Samsung Galaxy Note 7 targets phablet growth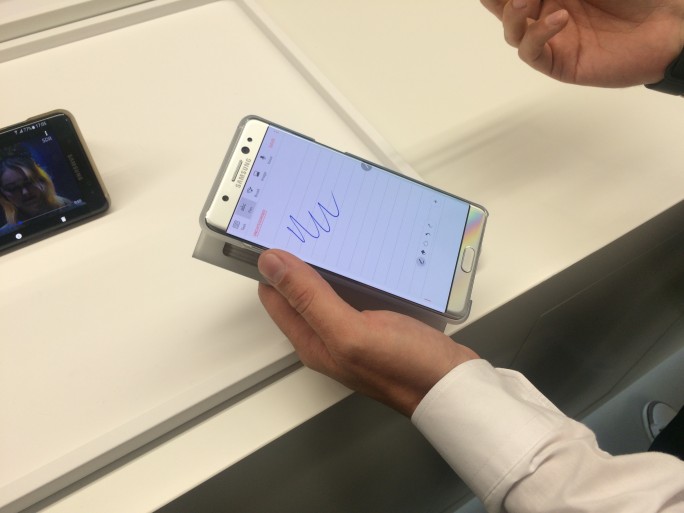 Device will come to the UK with top of the range tech, including iris security scanning
Samsung is bringing a new Galaxy Note device – complete with a brand new S-Pen and biometric security features like iris scanning – to the UK, as it seeks to establish its leadership in the phablet market in a bid to combat any drop off in smartphone sales.
The Korean manufacturer is the world's largest smartphone manufacturer and shifted 77 million devices according to recent figures from IDC. But growth in the market has slowed and there are fears of saturation – hence the company's focus on phablets and the business market.
Samsung is widely credited with popularising the concept of a large screen smartphone back in 2011 with the launch of the original Galaxy Note, but the last major entry in the series, the Galaxy Note 5 was never released in Europe.
At launch events in London, New York and Rio de Janeiro (Samsung is an official partner of the 2016 Olympic Games), the company pitched the Samsung Galaxy Note 7 as ideal for "power" smartphone users and touted its imaging, security and productivity features.
"We faced sceptics and critics who dismissed our large screen and S pen, but we stayed true to our vision," declared Samsung's president of mobile, DJ Koh, who astonishingly likened the venture to that of an Olympic athlete.
"Phablets are now the fastest growing segment of the smartphone market. For those who want to get the most out of their phones big screens are better."
'Like an Olympian'
The Samsung Galaxy Note 7 arrives in the UK on 2 September, with pre-orders starting on 16 August. The 5.7-inch device runs Android 6.0 Marshmallow, is powered by an octa-core processor (composed of 2.3GHz and 1.6GHz quad-core processors), 4GB of RAM and 64GB of internal storage. Like the "edge" models of the Samsung Galaxy S7, the Note 7 boasts the "edge" display.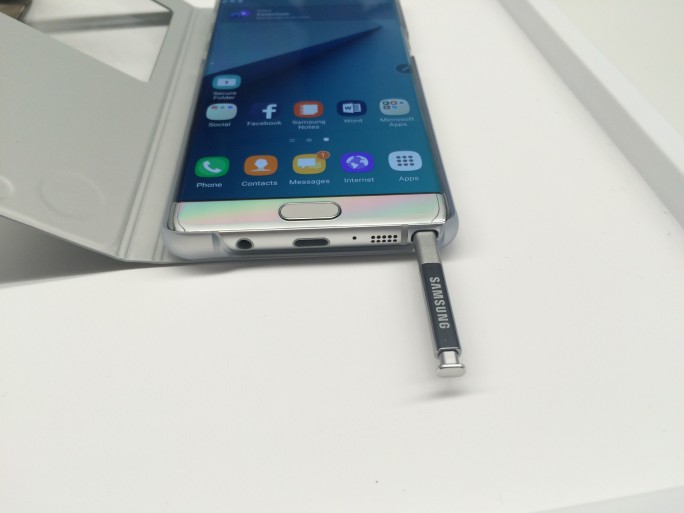 It has a 12 megapixel rear camera that is capable of HDR video and a 5 megapixel front facing lens, alongside fingerprint sensors and gyroscopic features. It has a water resistant body, is equipped with a USB-C and boasts long battery life.
The signature S-Pen has also been upgraded and now has a 0.7mm tip to make it feel like a real pen, while software has been consolidated into a single 'Notes' app capable of handwritten notes and drawing. The pen can also translate words simply by hovering over text.
Iris scanning allows users to unlock the device more or less by looking at it and is powered by a proprietary algorithm developed by the company. Samsung is working with banks to get the technology into their mobile applications and complements the chip level Samsung Knox security that has been featured in numerous other devices.
"For many, privacy is a growing concern so we're introducing iris scanning to protect your information," added Koh.
"Before Apple's Plus-sized iPhone stole its thunder, the Galaxy Note was the original phablet," noted Ernest Doku, analyst at uSwitch. "But since then its huge screen – the Note range's unique selling point – has been copied by multiple mobile makers. The result was all that the Note 5 had to differentiate it by was its inclusive stylus S-Pen.
"So you can see why Samsung – at the forefront of eyeball-tracking smartphone technology – has thrown an iris security scanner into the mix, and rolled out its unique curved edge as standard."
He added: "It's aiming to trump the existing fingerprint ID systems of its competitors, while building on the unexpected popularity of its first curved Edge phone – the closest thing to a major rethink of handset design we've seen for some time."