Ebay revamps its site with additional buying features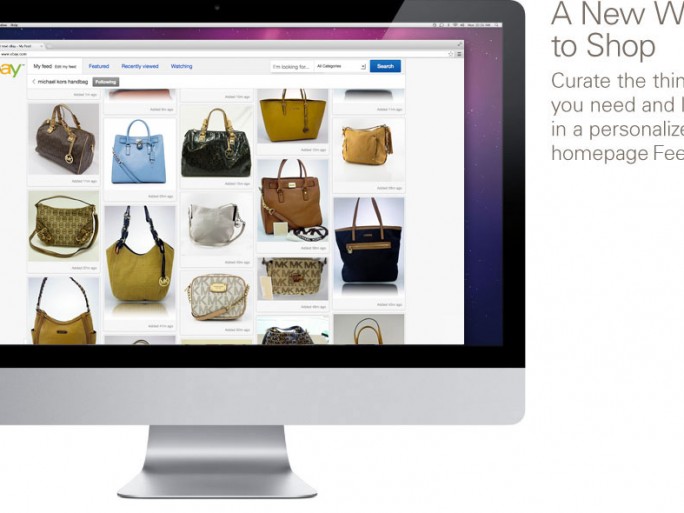 But retail world says new ideas are nothing new
Ebay has redesigned its website, allowing people to view items tailored to their browsing habits.
However, a retail analyst has said the new practices are "no great shakes," in the retail world, warning that if the company gets it wrong it could have a negative impact on sales.
Under the new design eBay users have been given a new "feed" option, which allows them to browse and collect items they may later want to buy. Much like Pintrest and similar to Amazon, it works by relying heavily on images to show buyers items based on their purchase or click history, and gives the option or removing or adding categories.
However, the new design, which also includes a "cleaner" logo, hasn't rocked the retail world.
Clive Longbottom, an analyst at Quocirca, said the improvements weren't a "big deal".
"[It] doesn't sound like a big deal to me – Amazon has had similar, and many sites also offer either a "you bought this, you may like this", or "Others who bought this bought that" type of stuff," he told ChannelBiz.
"On success, as with all sorts of things, it depends.  If you buy a certain type of thing off eBay, then it may work – for example, if you are a collector of an item – for the sake of argument let's say Marvel Comics from the 1960s – then having something that can push other items to you of that ilk may make you buy.  But, this is already available through using standard search terms and through the iPhone/iPad apps, and a collector will have continuous searches going on anyway.
"There is also the "similar to this" button which does a pretty decent job in finding other items.  For the ad hoc buyer, buying one item because it is needed and then being bombarded for weeks afterwards by similar offers would piss me off right royally. (Well, it already does with Amazon, where having bought some books for my daughter when she was about 16, I'm still being offered similar books 5 years on – they were kiddies books, for god's sake, and she's now 21)."
He also said that eBay's plans to launch a smartphone and tablet app called eBay Now, which lets people order items from retailers, such as Macy's, Target and Walgreens only means that "each outlet has its own eBay store which is tied in via the back end to the bricks and mortar stores.
"Again, no great shakes," he added.
"Overall, sure, it gives more flexibility and allows eBay to push more stuff towards possible buyers.  I doubt it will have much positive impact on sales – but if eBay gets it wrong and it becomes too intrusive in offering stuff that people do not want, it could have a negative impact."
Read also :