Chip sales to show positive growth in October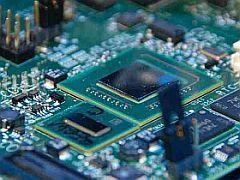 iPhone helped push sales over in China says Carnegie
World chip sales are likely to show a rise in October compared to September, an analysis by Carnegie has suggested.
The company predicts sales will show $24.9 billion for the October period, up from $24.8 billion in September. It said seasonally adjusted, that would be up three percent month-on-month, reversing part of a five percent month-on-month drop in September. The  three month average should be down 3.1 percent, year-on-year it added.
And it's good news on the semiconductor front, with sales predicted to rise seven percent  next year to $300 billion.
The company said one of the key reasons for high October sales was down to the new iPhone as well as a "positive" Windows 8 impact as well.
It said the iPhone was boosting figures one month later than it should have.
Over in China, high tech exports became stronger in October, following a weak September, while Fedex and Panalpina were quoted as claiming tech products were sent earlier via cheaper transportation methods this year.
However, UPS was still spending greatly, adding five more weekly flights from China to support Apple. It has also added shorter routes so the iPhone can arrive into the US in 10 hours. The flight goes from Zhengzhou-Incheon-Anchorage as well as Shanghai, Shenzhen, Chengdu and Qingdao to the US.
Chinese PC production hit $35 million in October, up 20 percent year-on-year and a strong rebound from low production in July. Carnegie said this was helped by a rebound in PC production for Windows 8.
However, on the handset front, the country struggled with sales weakening in October.
According to baseband supplier Spreadtrum, this was because there had been a shortage of power amplifiers for TD-SCDMA handsets in October and November, and a shortage of memory chips for handsets in general.
Carnegie said this was disappointing considering October was normally the top sales month of the year for handsets in China.
And the doom continued over in the US with PC imports hitting a new low for the year in September.
Korea fared better, reporting chip exports hit the highest level of the year in October, which the company said was probably due to rush shipments for Apple products.
Vietnam's tech exports rose 50 percent year-on-year in October bringing an overall tech export total to $700 million. This was up from
September, but flat compared to August.
Carnegie  said Samsung was targeting nearly $10 billion in exports from Vietnam this year, which it said seemed unlikely since they are not the only tech exporter.
The company said it believed he key tech exporters from Vietnam were Samsung, Intel and Jabil Circuit, pointing out that the Samsung Galaxy S III, Tab 7 and Tab 10 were all made here.
Thailand recovered from the floods just in time to see the disk drive market weaken.
Thai computer parts exports were also weak in September, dropping below the level of February when there were flood constraints. Several companies with factories in Thailand said the shift from PCs to tablets and smart phones hurt their disk drive businesses.