CeBIT 2013: EU Promises A 'Grand Coalition' To Fix The Skills Gap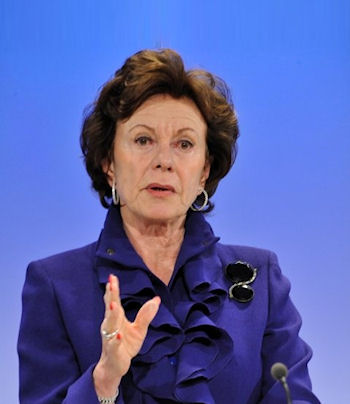 Digital Commissioner Neelie Kroes launched a "Grand Coalition for ICT skills" to end the shortage of IT professionals
European Commissioner for Digital Agenda Neelie Kroes has outlined plans for the creation of a "Grand Coalition for ICT skills", designed to help the shortage of IT professionals in Europe.
The Grand Coalition will start off with €1 million (£860,000) of funding that will be spent on raising awareness of the opportunities in the ICT field, improving education, and ultimately, getting a lot more people onto work in areas such as cybersecurity. The initial investment will be followed by €3.5 million in the spring, and further support in the future.
Holding out for a hero
Kroes warned the audience at the CeBIT 2013 exhibition in Hanover that the EU could lose its competitive edge unless a solution for the "skills gap" is found.
In her speech, Kroes noted that there are currently "hundreds of thousands of unfilled vacancies" in ICT, at a period of rising unemployment and economic turbulence. She said the Grand Coalition was created both to "build on existing successes" and to seek out areas where more investment is needed.
The European Commissioner said that part of the problem was people weren't aware of the many opportunities in the industry, and initiatives like 'eSkills week' and 'Get Online week' weren't doing enough. She also called for modernisation of ICT education and postgraduate training, and more interaction between schools and IT businesses, so the programmes could be based on real-world requirements.
"The current training systems are so long winded and time consuming that they become irrelevant before completion," Philip Taphouse from Bright Technology told TechWeekEurope. "Even the best technical qualification is useless unless backed up by real world experience."
Kroes had no illusions about the effort it would take to change education systems across the EU: "That's a huge task, ranging from curricula to teacher training, and it will take time, but it needs to be done."
The Commissioner also noted that some markets are better supplied by ICT staff than others, and could share employees. "We must encourage mobility for ICT workers, and fix that problem. Of course, supporting free movement, in any sector, is the EU's core business. And so I welcome that several national employment services are already actively helping."
This first appeared on TechWeekEurope UK. Read the whole story here.
Read also :