Nutanix Shows Scalable Virtualisation And Simpler Boxes For SMBs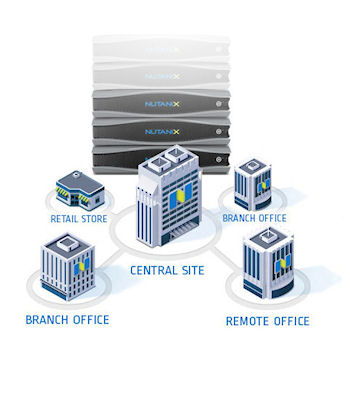 The virtualisation-in-a-box firm breaks the SMB barrier and launches self-contained scalabilty
Nutanix has announced two additions to its Virtual Computing Platforms portfolio. The NX-1000 series puts converged infrastructure within reach of SMBs and branch offices. The NX-6000 series allows enterprises to scale their Nutanix cluster storage capacity.
The NX-6000 comes in at $60,000 (£38,800) per node and the 1000 is priced from $22,500 (£14,500) per node, including server and storage. However, for a limited time, Nutanix and its partners will be offering a special pricing promotion for the SMB systems.
Stacks of uses
Howard Ting, vice president of marketing at Nutanix, said, "By providing an affordable solution that drastically simplifies infrastructure management for mid-market companies and enterprise branch offices, as well as empowering customers to choose the appropriate ratio of storage and compute resources, Nutanix continues to lead the charge in re-inventing the enterprise data centre."
The NX-1000 Series features a converged data centre architecture, eliminating the need for centralised SAN/NAS storage. This reduces the complexity of the installation into a single box which can be easily stacked and cabled to increase capacity.
The appliance-style model makes management easier for SMBs which generally lack IT specialists who would know how to install and administer separate servers, storage arrays and networking links.
Scaling the enterprise
The scalable NX-6000 allows storage to be added independently within a single converged infrastructure. This is a break from the typical offer of fixed, vendor-selected storage capacity to compute performance ratio.
The 6000 allows multiple applications to run within an environment where each has access to its own resource demands (VDI). Tailoring each application is supported one appliance at a time with the ability to cater for precise storage needs and compute resources for any workload, Nutanix claimed.
Ashish Nadkarni, IDC's research director for storage systems, commented, "Natively converged infrastructure solutions – also known as CompuStorage solutions in IDC's taxonomy on file and object storage – are quickly becoming a reality for many enterprises as the need to handle Big Data projects, high-end databases, or demanding virtual desktop infrastructure dramatically increases. The key to a successful natively converged infrastructure is flexibility: a single platform that can scale compute and storage independently, and can easily adapt to specific environments and application requirements."
Read also :