Open Compute Gains Seagate Kinetic Open Storage Tools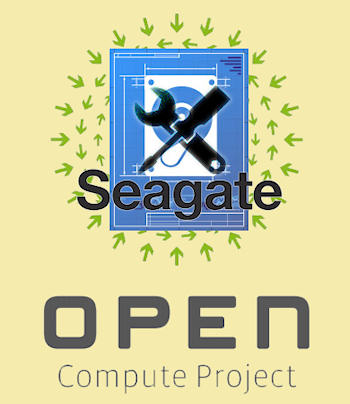 Open Compute Project summit sees release of Interfaces and developer tools for Kinetic platform
Two development tools for the Kinetic Open Storage platform have been released by Seagate at the  Open Compute Summit V, currently being held in the San Jose Convention Centre, California, to enable the community to develop object-based storage products.
The Seagate Kinetic Ethernet Drive and T-Card Development adapter have been accepted by the Open Compute Foundation for its solution providers and system builders to use in the Facebook-initiated Open Compute Project (OCP).
Storage platform
Announced last year, the Kinetic Open Storage platform is a device-based open source platform  was launched to offer greater performance, scale, simplicity and a lower TCO for scale-out storage architectures.
The Ethernet Drive interface allows systems developers to adapt existing SAS or SATA chassis interfaces with hard drive backplanes for network connection.The T-Card development adapter assists software designers to write and pre-test applications by allowing communications over the connectors to the Kinetic hard drives. Both specifications have been designed to conform with the dimensions, specifications, power signal assignments, and physical placement of industry standard SAS drives.
Mark Re, Seagate's chief technology officer, described the platform as "a true game-changer" for OCP adopters. "The Kinetic Open Storage platform will provide this community with the ability to deliver innovative, first-of-their-kind, scale-out storage architectures at the industry's lowest total cost of ownership," he added.
Seagate partners Hyve and Wiwynn have been demonstrating prototype OCP systems based on Kinetic Open Storage at the San Jose conference
Steve Ichinaga, senior vice president and general manager for Hyve Solutions, said, "Seagate's Kinetic technology has enabled us to further innovate on top of the Open Compute Project system design and allows us to increase storage density and reduce performance bottlenecks. This new open storage platform is another great example of the innovations arising from the Open Compute Project community allowing us to better address the needs of our scale-out storage cloud customers."
Read also :