Kodak Alaris adds new networked scanners to range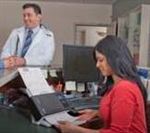 The Kodak Scan Station 710 is for general office use, and the Kodak Scan Station 730EX is specifically designed for SIs and ISVs
Kodak Alaris has updated its networked scanner range – the Scan Station 700 Series – with two new models.
The Kodak Scan Station 710 is for general office use, and the Kodak Scan Station 730EX is specifically designed for systems integrators (SIs) and independent software vendors (ISVs) to tailor and customise for specific customer and industry needs.
Both are aimed at companies that have multiple offices and wish to improve collaboration and staff productivity by adding connected devices to their networks. By updating the motherboard and CPU, scanner speeds have increased 40 percent, achieving up to 70 pages per minute. The new models offer a recommended daily volume of 6,000 pages, and can scan in A4, duplex, black and white and colour.
In addition, the new scanners now come with the latest Microsoft Windows operating system – version 8.1 – embedded into each device. The 710 and 730EX are standalone units requiring no PC and come with a colour, 9.7 inch intuitive touch screen.
Hauke Fast, Kodak Alaris' EAMER product marketing manager, said: "The Kodak Scan Station is simple to connect to a network to send data to multiple destinations simultaneously, like network folders, printers, FTP sites, email and Microsoft Sharepoint."
To maximise operator productivity the Scan Station's architecture has been designed to split the capture and sending of jobs into two discrete tasks. This enables users to continuously feed and scan documents while the actual processing over the network takes place in the background. This means staff can deal with documents as efficiently as possible.
Other key features incorporated in the scanners include a Wizard-based set up tool to make the initial network configuration of the Scan Stations easier for network administrations, and security features include secure logins using LDAP, PDF Private Key Encryption and password protected PDF output.
The Scan Stations also come with an innovative voice attachment feature which allows staff to record verbal instructions about a document and send it with the paperwork when scanned. And a remote administration utility enables IT staff to manage, configure and maintain multiple scanners from a central location.
Read also :