Keeping Up With The Changing Pace Of The Channel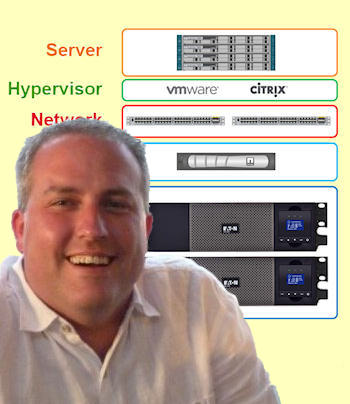 The secrets of selling keep changing but Dave Oddie at Eaton believes packages now provide the solution
Historically, margin was considered to be the one and only driving force which influenced the channel. Today, the commoditisation of hardware, software and services has brought with it decreasing prices and simply being competitive on pricing is not enough for today's savvy IT buyers.
The new channel is all about packaged solutions. The higher-value business lies in reacting to customer enquiries to specify whole projects. Consequently, distributors are beginning to place more focus on solutions and looking to give real value to their customers by offering something they can't get from any other provider.
Packages not boxes
The transition to a solutions-based model is taking place and replacing the old "box-shifting" strategy. But what does this mean for resellers and what role must vendors play in supporting the changes?
To see at first-hand the changes that are taking place in sales strategy, all you need to do is take a close look at the IT channel. Solutions-titled sales teams are more prominent today as the decreasing revenues of reselling commoditised products sees distributors move to generate a high-level of demand from customers looking for complete packages. This is also the case with uninterruptible power supplies (UPS), where a marked shift from a singular focus on shifting UPS boxes to selling customers a combined "Power Solutions" is taking place.
The change towards a solutions-based approach is not without its challenges and change brings about its own set of problems, especially when it impacts on the fundamental way we conduct business. If we respond quickly and seek to embrace the solutions-based model the channel is adopting, there are huge opportunities for partners to stand out from the crowd.
If there's one essential ingredient for success with a solutions-based approach, it is knowledge. Through knowledge comes understanding, and through understanding comes exceptional customer service. Partners that can demonstrate an understanding of the issues their customers face, and can identify the best solution based on sound product and sector knowledge, will very quickly gain trust.
This ultimately leads to the holy grail of customer service – loyalty. After all, who wouldn't want to work with a partner that always knows the application type in question, has the most up-to-date technical knowledge, and can save the end-user precious time, effort and money?
Strategic approach
Happily, becoming a reseller that can demonstrate such expertise does not present an insurmountable challenge. What it requires is for the reseller to invest their time, effort and ability to think strategically about business to create strategies that will create or win customer loyalty.
There are tools such as social media, including dedicated platforms, such as Spiceworks, for IT professionals, which make it easy to research end-user needs and can help to shape and inform a market-led business strategy.
A recent poll, undertaken by Eaton at SpiceWorld, Spiceworks' London user conference, revealed that almost 40 percent of people questioned indicated that they don't need approval for UPS specification or purchase, and over 90 percent reported that UPSs are seen as critical items of equipment by their company. Team this little nugget of information with the knowledge that the landscape for UPSs has changed, such that a UPS is now seen as critical equipment to support business continuity and it quickly starts to become clear how such insight into a customer's business creates opportunities to bolt-on additional products and deliver a complete solution.
However, resellers need not feel that the responsibility lies solely with them. This transition from a box-shifting to a solutions-based model requires vendors to help resellerss to build up larger business opportunities by focussing on partner development and working hand-in-hand to support end-users.