Paragon's New Hard Disk Manager Adds SSD And Virtual Support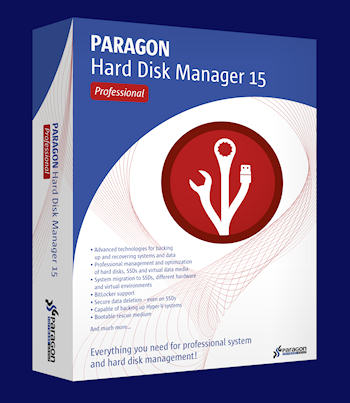 Paragon Hard Disk Manager goes beyond mechanical disks to offer support for virtual containers
Maybe it's time Paragon Software rename d its Hard Disk Manager (HDM) to reflect its ability to manage SSDs and virtual disks. The latest release, Version 15, has brought the ability to delete SSDs, in addition to hard disks, securely and to back up and restore selected virtual containers, including Microsoft Hyper-V VHDX and VHD, VMware VMDK, and the new Paragon pVHD formats.
The release has also included an embedded Recovery Media Builder 3.0, file level backup, and agentless protection for Hyper V guests.
Virtual improvements
HDM 15 is vailable in two versions, Suite and Professional. Suite additions includes the Recovery Media Builder for creating a personal recovery environment, backup and restore for virtual containers, the SSD erasure module and an updated user interface. Professional adds agentless protection of Hyper-V guest machines and physical to virtual (P2V) restore for virtual containers.
The Professional edition now delivers file exclusion filters and scripting for personalised backup and recovery. The entire system, individual partitions or selected files can be backed-up manually or on a schedule allowing a one-time full backup of the entire computer to be followed by regular incremental backups. Backup containers in the pVHD (Paragon Virtual Hard Disk) format speed up backups to network storage by up to 10 times, the company claimed. It also promises a free upgrade when Windows 10 is released.
Both editions allow the creation of bootable recovery media. HDM 15 Suite unites more than 20 advanced data management technologies, including partitioning, boot correction, file and image backup, disk copying, secure data wiping (even on SSDs), and flexible recovery options.
Whether preparing a hard disk for use with multiple operating systems or redistributing storage space among several partitions, automatic partition alignment maximises the performance of SSDs and hard disks with four kilobyte sectors, and Raid volumes.
ConnectVD (Virtual Disk), included in the Professional edition, makes it easy to manage virtual drives, from partitioning or managed file transfer (MFT) defragmentation to data exchange. An advanced mode provides precise analysis and repair tools for fixing booting problems or analysing hard drive status.
Disaster recovery is also supported by allowing, backups to be restored to different hardware. A Universal Image Mounter (UIM) capability gives full access to archived files at all times. The user maps a backup archive as a network drive and the contained files will be accessible, as though it was a physical hard disk.
Paragon Hard Disk Manager 15 Suite is available for $49,95 (£31.27) and the Professional version costs $99,95 (£62.57).
Read also :